Palazzo dei Conservatori, Rome
The Palazzo dei Conservatori, built by Giacomo della Porta in 1564-75 to the design of Michelangelo, contains reception rooms used by the municipality of Rome on ceremonial occasions, and also houses part of the Capitoline Museum. Notable exhibits in the museum include fragments of a colossal statue of the Emperor Constantine, 12m/40ft high, and two statues of captive Barbarian princes (in the courtyard); the Capitoline She-Wolf, an Etruscan work of the sixth century (the hindquarters were damaged by lightning in 65 B.C.; the figures of Romulus and Remus were added at the Renaissance); parts of the Fasti Consulares et Triumphales, a list of consuls and their victories; and the "Boy with a Thorn", a Hellenistic copy in bronze of a 5th century original.
Palazzo dei Conservatori Map
Important Information:
Address:
Piazza del Campidoglio, I-00186 Rome, Italy
Opening hours:
9am-1:30pm; Sun: 9am-1pm
Transit:
Metro: Colosseo (line B); Bus: 57, 85, 87, 88, 90, 90b, 92, 94, 95, 716, 718, 719.
One room in the palace, the Sala delle Oche, is named after the geese whose cackling was said to have saved Rome from capture by the Gauls in 385 B.C. The palace also contains the Capitoline Picture Gallery (Pinacoteca Capitolina), eight rooms with paintings by Titian ("Baptism of Christ"), Tintoretto ("The Passion"), Caravaggio ("John the Baptist"), Rubens ("Romulus and Remus"), Veronese ("Rape of Europa"), Lorenzo Lotto ("Portrait of a Bowman") and Velázquez ("Portrait of a Man").
Palazzo dei Conservatori Highlight
Rupe Tarpea
At the southwest corner of the Palazzo dei Conservatori is the Tarpeian Rock (Rupe Tarpea) from which, in Roman times, condemned prisoners were hurled to their death.
Map of Rome Attractions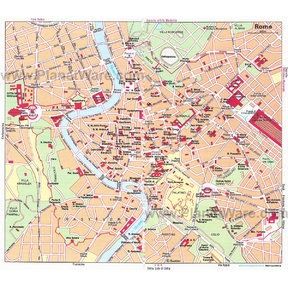 Rome Map