Our Lady at the Heavenly Altar, Rome
Santa Maria in Aracoeli
The church of Santa Maria in Aracoeli occupies a venerable sacred site on the Capitol, having been built by Franciscans in the 13th century on the foundations of the ancient temple of Juno Moneta, which dated from the sixth century B.C. The steep flight of 124 steps leading up to the church (which young couples like to climb after their wedding) was constructed in 1348.
Our Lady at the Heavenly Altar Map
Important Information:
Address:
Piazza del Campidoglio 4, I-00186 Rome, Italy
Opening hours:
7am-12pm, 3:30pm-6pm
Transit:
Bus: 57, 90, 90b, 92, 94, 95, 716, 718, 719.
In the Middle Ages the church was at the center of Roman political life, being the meeting place of the municipal parliament. The interior was redecorated after the defeat of the Turkish fleet at Lepanto in 1571. The majestic flight of steps leads up from the Via del Teatro di Marcello to a bare brick facade which makes the interior appear all the more sumptuous, in spite of its simple basilican plan (with side chapels added later). Notable features of the church are the 16th century wooden ceiling, the Cappella Bufalini at the near end of the south aisle, which has frescoes by Pinturicchio (1485), and the numerous grave-slabs and monuments in the floor and on the walls. In the north transept is an elegant aedicula (miniature temple) marking the spot where the Sibyl prophesied to Augustus that a virgin would bear a divine child who would overthrow the altars of the gods; whereupon the Emperor set up an altar on the spot with the inscription - now on the triumphal arch - "Ecce ara promogeneti Dei" ("Behold the altar of the firstborn of God"). Beneath the aedicula are the remains of St Helen, Constantine's mother, who searched for the True Cross and the relics of Christ's Passion in the Holy Land and brought them back to Rome. In the sacristy can be seen the "Santo Bambino", a figure of the Child Jesus which legend says was carved from the wood of an olive-tree in the garden of Gethsemane and which is popularly credited with miraculous qualities. At Christmas the image is set up in the nave, and children preach "sermons" in front of it.
Our Lady at the Heavenly Altar Pictures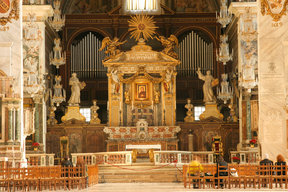 Map of Rome Attractions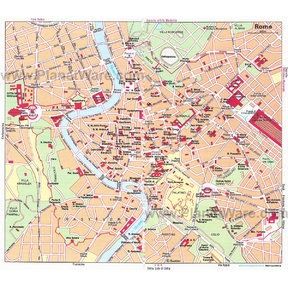 Rome Map