Capitoline Museum, Rome
Museo Capitolino
The Capitoline Museum in Rome, founded by Pope Sixtus IV in 1471, is the oldest public art collection in Europe and has a rich stock of classical sculpture. In the Palazzo Nuova of the Capitoline Museum, built about 1650 on the model of the Palazzo dei Conservatori on the opposite side of the square, the following pieces of sculpture are outstanding: the "Dying Gaul", a Roman copy of the figure of a dying warrior from the victory monument erected by King Attalus of Pergamon in the third century B.C. after he had defeated the Galatians; the "Wounded Amazon", a copy of a work by Cresilas (fifth century B.C.); the "Capitoline Venus", a Roman copy of the Cnidian Aphrodite of Praxiteles; and two Hellenistic works, "Amor and Psyche" and the "Drunken Old Woman". Also of the greatest interest are the collections of 64 portrait heads of Roman Emperors and members of their families and 79 busts of Greek and Roman philosophers and scholars. The recently restored equestrian statue of Marcus Aurelius stands behind glass in the courtyard of the Capitoline Museum.
Important Information:
Address:
Piazza del Campidoglio 1, I-00186 Rome, Italy
Opening hours:
9am-8pm; Closed: Mon
Entrance fee in EUR:
Adult €6.50, Concession or reduced rate €4.50
Useful tips:
Reduced hours in December.
Transit:
Bus: 57, 85, 87, 88, 90, 90b, 92, 94, 95, 716, 718, 719.
Map of Rome Attractions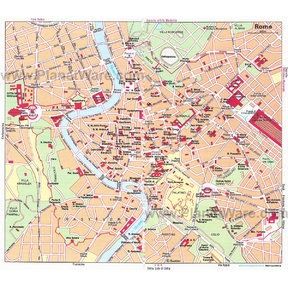 Rome Map