Arch of Constantine, Rome
Arco di Costantino
The triumphal arch erected by the Senate in honor of the Emperor Constantine, "liberator of the city and bringer of peace", after his victory over Maxentius in the battle of the Milvian Bridge A.D. 312 is the largest (21m/69ft high, 25.7m/84ft wide, 7.4m/24ft deep) and best preserved of Roman triumphal arches, in spite of the fact that it, like the Colosseum, was incorporated in the castle of the Frangipane family and was not disengaged until the 16th (partly) and 19th century (completely). Extensive restoration was completed in 1990.
Important Information:
Transit:
Metro: Colosseo (line B); Bus: 11, 15, 27, 81, 85, 87, 88, 118, 673; Tram: 13, 30, 30b.
The arch, with three openings, is decorated with reliefs taken from earlier structures, which the sculptors of the early fourth century were unable to equal. Some of the scenes, therefore, have little to do with Constantine and his military achievements - a boar hunt and a sacrifice to Apollo, taken from a monument of the time of Hadrian, scenes from the reigns of Trajan and Marcus Aurelius. The side facing the Colosseum bears the Latin inscription: "To the Emperor Caesar Flavius Constantinus Maximus, the pious and jubilant Augustus, the Senate and the peoples of Rome dedicate this arch as a token of his triumph as, by the inspiration of God and his magnanimity, he and his army liberated the state in rightful war from the tyrant and from all rebellion".
Map of Rome Attractions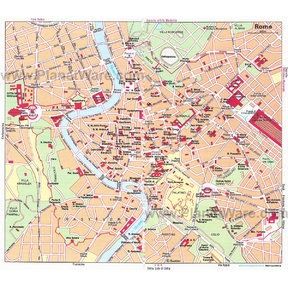 Rome Map