Tijuca, Rio de Janeiro
The Tijuca district is located just north of the north-east portion of Tijuca National Park.
Related Attractions
Ilha de Paquetá
Ilha de PaquetáThe island of Paquetá, with an area of just over a square kilometer and a population of rather more than 2000, is one of the most attractive places in Rio. It lies in Guanabara Bay, an hour's boat trip from Praça 15 de Novembro. The island, which can be explored only on foot, on a bicycle or in a horse-drawn carriage, has preserved many historic old buildings. Of particular interest are the Solar del Rey, a palace in which Dom João VI frequently stayed; the chapel of São Roque (1698); the houses of José Bonifácio de Andrada e Silva, father of Brazilian independence, and the writer Joaquim Manuel de Macedo; and the beaches of José Bomifácio and Comprida (or Moreninha).
Vila Isabel
In the Tijuca district, in Rua Haddock Lobo, is the church of São Sebastião, with a stone recording the foundation of the town and the tomb of its founder Estácio de Sá. Among the attractions of this quarter are the rehearsals of the local samba schools, the Acadàmicos do Salgueiro and the Unidos da Tijuca. Vila Isabel is the home of the Unidos de Vila Isabel, one of the "hot" samba schools. Above Vila Isabel are the favela of Mangueira, the place of origin of the Estação Primeira de Mangueira, the city's most popular samba school, and (in São Cristóvão, the gateway to the northern districts of Rio) the Quinta da Boa Vista.
Nossa Senhora da Penha
The church of Nossa Senhora da Penha de França, built in 1871 on a 69m/226ft high crag, is approached by a flight of 365 steps hewn from the rock. The Festa da Penha in October draws large numbers of pilgrims. It lies near the Ilha do Governador in the outlying district of Penha, to the north.
Oswaldo Cruz Institute
Near Avenida Brasil, which gives access to the two expressways BR 116 (Rio-São Paulo) and BR 101 (Rio-Santos), is the early 20th century district of Manguinhos. In this district is the Oswaldo Cruz Institute of Serum Therapy, with two museums: the Museum of the Institute, with material on Oswaldo Cruz and his fight against yellow fever, and the Museum of Pathology, which documents and illustrates the Institute's research.
Aerospace Museum
Space MuseumThe Space Museum (Museu Aeroespacial) is also near Avenida Brasil on Campo dos Afonsos. It displays in its hangars reproductions of Santos Dumont's "14 Bis" and "Demoiselle" and other aircraft, engines used in Brazilian planes, and photographs and documents on Santos Dumont, the national air mail service and Brazil's involvement in the war in Italy. Conducted tours by appointment only.
Map of Rio de Janeiro Attractions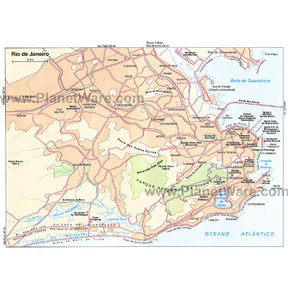 Rio de Janeiro Map
More Rio de Janeiro Attractions
Popular Destinations Nearby