São Cristóvão, Rio de Janeiro
From Praça Mauá Avenida Rodrigues Alves runs along the harbor to the São Cristóvão district, with the gardens and palaces of the imperial house, now public parks and museums.
Related Attractions
Quinta da Boa Vista
One of the most attractive places in São Cristóvão is the park of Quinta da Boa Vista, with lakes, caves, clumps of trees, gardens and a railway which takes visitors round the park.
National Museum
From 1808 to 1889 the palace of Quinta da Boa Vista was the residence of the royal and the imperial family, and was much altered and rebuilt to become the Palácio de São Cristóvão. It now houses the National Museum, which has the largest zoological, botanical, ethnological and archaeological collections in the country, amounting in total to over a million items, as well as a library of 300,000 volumes. The Museum also runs postgraduate training courses.
Fauna Museum (Zoo)
Within the Quinta da Boa Vista park are the Fauna Museum, with specimens of Brazilian birds and mammals, and the Zoo, one of the finest in Brazil, with some 2400 species of mammals, birds and reptiles from Africa, Asia and Brazil.
Maracanãzinho
The Célio de Barros Olympic Stadium and the Gilberto Cardoso Palace of Sport (the Maracanãzinho), can seat up to 20,000 spectators. Adjoining the Stadium is a Museum of Sport, displaying jerseys, photographs, banners and other mementoes of a great variety of sports and of famous athletes, with the main emphasis on football.
Museum of First Reign
On Avenida Dom Pedro II, which runs from Avenida Rodrigues Alves to the Quinta da Boa Vista, is the Museu do Primeiro Reinado (Museum of the First Reign), housed in a neo-classical building of 1826, once the residence of Pedro I's mistress the Marquesa de Santos.
Map of Rio de Janeiro Attractions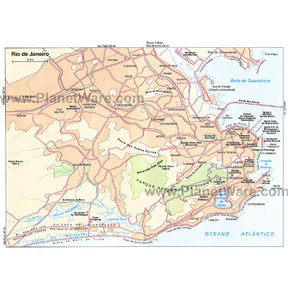 Rio de Janeiro Map
More Rio de Janeiro Attractions
Popular Destinations Nearby