Praça Tiradentes, Rio de Janeiro
Praça TiradentesTo the north of the Cathedral, on Rua Frei Caneca, is Praça Tiradentes (square), which until the mid 20th century was the center of Rio de Janeiro's theatrical life.
Related Attractions
Teatro João Caetano
Teatro João CaetanoIn Praça Tiradentes is the Teatro João Caetano, built in 1813 as the Teatro São João, the largest in imperial Brazil. In the square are a bronze figure of João Caetano (1860) and a statue of Dom Pedro I (1862).
São Francisco de Paula
São Francisco de PaulaNorthof Teatro João Caetano is the church of São Francisco de Paula, with carving by Mestre Valentim on the high altar and in the chapel of Nossa Senhora das Vitórias. The church also had paintings by Victor Meireles and other 19th century artists.
Sambódromo
The Sambódromo, in which the Carnival parades of the samba schools of Rio have been held since 1984, was designed by Oscar Niemeyer. With a total area of 85,000sq.m/102,000sq.yds, it has seating for up to 50,000 spectators. The associated Carnival Museum displays the trophies of the samba schools, which are brought up to date every six months.
Campo da Santana
Campo da SantanaRua Frei Caneca runs west from the central area to the Campo de Santana (Praça da República) and the Sambódromo, a tiered street designed for the Carnival parades. The Campo de Santana, a tree-shaded park of over 155,000sq.m/185,000sq.yds with a lake and numerous fountains, was the scene of Dom Pedro I's triumphal procession after his coronation as Emperor and later, in 1889, of the proclamation of the Republic and with it the fall of the monarchy.Also in the Campo de Santana are the Casa da Moeda (Mint; 1856-68) and a monument in honour of the Republican leader Benjamin Constant (1926). Opposite the park, on Avenida Presidente Vargas, is an equestrian statue (by Rodolfo Bernardelli, 1899) of the Duque de Caxias, crowning the National Pantheon in which the great Brazilian general and his wife are buried.
Estação Dom Pedro II
On Praça Cristiano Ottoni (Avenida Presidente Vargas, opposite the Campo de Santana) is the Estação Dom Pedro II (railway station; 1879).
Museum of History and Diplomacy
In Rua Marechal Floriano, is the Palácio do Itamarati, now occupied by the Museum of History and Diplomacy. Until 1897 it was the official residence of the President of the Republic, and thereafter was occupied by the Foreign Ministry. The Museum displays a variety of documents illustrating the work of Brazilian diplomats since the colonial period.
Map of Rio de Janeiro Attractions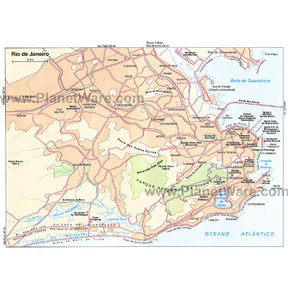 Rio de Janeiro Map
More Rio de Janeiro Attractions
Popular Destinations Nearby