Wascana Centre, Regina
Laid out on the shores of an artificial lake in the middle of Regina the 930 ha / 2300 acres of the Wascana Center form one of the largest city parks anywhere in the world. The park is the setting for Saskatchewan's Legislative Building, the Museum of Natural History, the Saskatchewan Science Center, the Diefenbaker Homestead, the Saskatchewan Center of Arts and the University of Regina.Wascana Lake is also a bird sanctuary, its islands and reedbeds providing refuge for ducks, geese, swans, pelicans and a variety of other birds. Picturesque Willow Island at the northern end of the lake makes an ideal spot for picnicking (reached by ferry).
Related Attractions
Legislative Building
The Legislative Building was built between 1908 and 1912. Shaped like a cross it shows the influence of both the English Renaissance and the Age of Louis XVI. In addition to the local Tyndall limestone 34 kinds of rare marble were used in its construction. The building has a total area of about 19,000 sq. m (205,000 sq. ft).Included among the 265 rooms are the Prime Minister's Office and Cabinet Chamber. The Legislative Building also houses various items of historical interest and a number of works of art.One wing is occupied by the Canadian Native Gallery. It has displays of native Indian art and a photographic collection.
Saskatchewan Science Centre
The Saskatchewan Science Center in Regina opened in 1989. Occupying a converted former power station on the north bank of Wascana Lake the Center is rather special in encouraging "hands on" involvement with the sciences (e.g. geology and astronomy). Visitors are able to handle the exhibits, perform experiments and ask questions as well as experiencing simulated space travel and "seeing" their voices reproduced on a computer screen.
Mackenzie Art Gallery
The Mackenzie Art Gallery in the south-west corner of the Wascana Center possesses an excellent collection with exhibits ranging from the art of ancient Mesopotamia to contemporary Canadian works. The Gallery also puts on important temporary exhibitions.
Royal Saskatchewan Museum
Visitors to the Museum of Natural History find themselves taken back 2 billion years in time. There are over 100 glass display cabinets devoted to geology, paleontology, archaeology and anthropology. The new Earth Sciences Gallery is quite exceptional with its fascinating series of extremely lifelike dioramas showing mastodons, dinosaurs, etc. (also contemporary wildlife) in their natural environment.
Wascana Centre Pictures
Map of Regina Attractions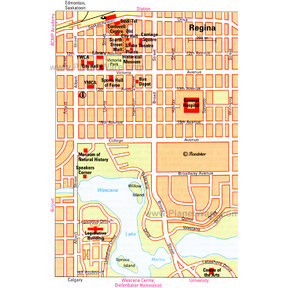 Regina Map
More Regina Attractions
Popular Destinations Nearby