São José, Recife
There are several interesting buildings in the São José district.
Related Attractions
Pátio de São Pedro
Pátio de São PedroTo the east of the Carmelite church and convent, in the São José district, is the Pátio de São Pedro ("St Peter's Court"), round which are a number of colonial buildings. In the square are stalls selling craft products of wood, straw, leather and other materials, and in May the Festival de Cirandas is held here.
São Pedro dos Clérigos
São Pedro dos ClérigosThe Cathedral of São Pedro dos Clérigos, the most imposing monument on the Pátio de São Pedro, was designed by Manuel Ferreira Jácome and built between 1728 and 1782. The ground-plan is an elongated rectangle in two parts, within the smaller part of which is inscribed the octagonal nave. The façade is notable for its almost Gothic verticality. The doorway is Baroque; the pulpit, altars and galleries are of carved stone, the doors of palisander wood. The ceiling painting - João de Deus Sepúlveda's finest work - depicts St Paul blessing the Catholic community.
Forte Cinco Pontas
Forte Cinco PontasBelow the Market, near the Rio Pina, is the Forte Cinco Pontas, built by the Dutch in 1630, which now houses the Municipal Museum. Here in 1825 a monk named Caneca, a champion of the Confederação do Equador movement, was shot and other republican leaders hanged. The memory of this martyr is still preserved by the people of Recife, and every year in the first half of January the "Passion of the Monk Caneca" is re-enacted in the streets of the city.
Casa da Cultura
Casa da CulturaOn the banks of the Rio Capibaribe at the other end of the old town, in Rua Floriano Peixoto, is the House of Culture, which occupies the former Casa de Detenção (Prison). Here craft products are displayed for sale.
Museu do Barro
Museu do BarroAlso in the Casa da Cultura is the Museu do Barro, which displays work by Mestre Vitalino of Caruaru and his family.
Mercado de São José
The Mercado (Market) de São José, to the east of the Cathedral, is the largest in Recife.
Railway Museum
Railway MuseumTo the south of the Casa da Cultura, on Praça Visconde de Mauá, are the Railway Museum (Museu do Trem) and the Metro station.
Map of Recife Attractions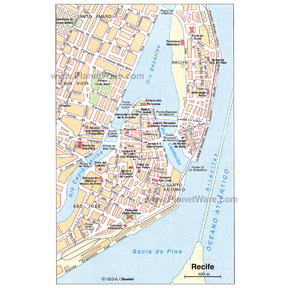 Recife Map
More Recife Attractions
Popular Destinations Nearby