Puerto Rico
The "gatekeeper" of the Caribbean Sea, Puerto Rico is the smallest of the Greater Antilles Islands at 35mi/22km wide and 100mi/62km long. The official languages of the island are Spanish and English. Puerto Rico, Spanish for "Rich Port", has a distinct culture that is a fusion of Amerindian ancestors, Spanish conquistadors, West African slaves and the influences of the United States.
Related Attractions
Island-Wide Festivals
Each Puerto Rican town annually honors its patron saint. The fiestas usually begin on the Friday ten days before the saint's day. Generally, the fiestas take place in the town's central plaza and include traditional and salsa music, dancing, and consumption of roast pork. On the Sunday before the saint's day a large parade takes place. Check ahead to find out what's happening in the towns you're visiting.
Map - Puerto Rico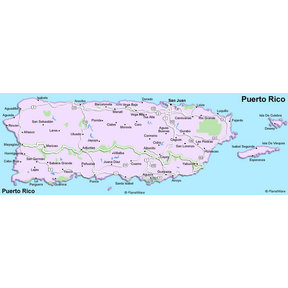 Map - Puerto Rico