Strahov Monastery and Library, Prague
Strahovsky kláster
The Strahov Monastery and Library (Strahovsky kláster) dates to the 12th Century and is the second oldest Monastery in Prague. Strahov Monastery is actually a collection of buildings, each with its own unique character. An imposing gateway marks the entrance to the monastery where just inside visitors will find the Church of the Assumption of our Lady (Nanebezveti Panny Marie) and the Church of St Roch (Kostel sv Roch).The Strahov Monastery is well known for its two Baroque libraries.
Strahov Monastery and Library Map
The Philosophical Library (Filosoficky sál) contains some extraordinary furnishings from Louka Monastery in Moravia. Upon acquiring the furnishings the Strahov Monastery altered the library structure to adapt to the new acquisitions. The Philosophical Library ceiling was painted by Franz Anton Maulbertsch and depicts "enlightenment". The second library is the Theological Library is the highlight of the monastery. This splendid Baroque room with a beautiful ornate painted ceiling, done by Siard Nosecky, a Strahov Monk, is the finest Baroque room in Prague. The ceiling frescoes are framed by detailed stucco work. This room is truly a Baroque masterpiece. The libraries collections contain many rare, old volumes and manuscripts, including the 9th Century Strahov Gospel.In the basement are old printing presses, as well as some old furniture, and the remains of St Norbert, founder of the Premonstratensian order. Also of note at the Strahov Monastery are the cloisters which houses a religious art collection and treasury.
Map - Strahov Monastery and Library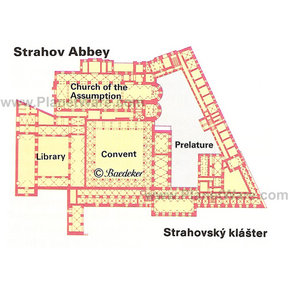 Map - Strahov Abbey
Strahov Monastery and Library Pictures
Map of Prague Attractions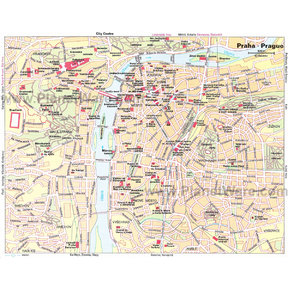 Prague Map
More Prague Attractions
Popular Destinations Nearby