10 Top-Rated Day Trips from Prague
The beautiful city of Prague is a great springboard for adventure. Whether you're looking for historic castles and quaint medieval streetscapes, cultural experiences at art galleries and museums, or a chance to simply explore the scenery, you'll find much to see and do outside the city. From the old churches and crypts in Kutná Hora and Sedlec to the catacombs of Klatovy, from lovely old palaces and a museum dedicated to the famous Skoda automobile manufacturer, there's no end of fun day trips to be had from Prague.
1 Sedlec Ossuary: The Bone Church
On the outskirts of Kutná Hora, an hour's drive east of Prague, is the small town of Sedlec, famous for the rather gruesome collections of its "Bone Church." In the Gothic All Saints Chapel are the remains of some 70,000 people who died during the plagues that started in 1380, or who fell victim to the Hussite Wars of the 15th century (look carefully, and you'll see evidence of injuries on some bones). By 1526 overcrowding in the church cemetery was so severe that a local woodcarver, Frantisek Rint, was granted permission to remove bones and use them for artistic purposes. The results are an astounding display of curious arrangements including coats of arms, a functioning chandelier, bells, and even chalices.
Address: Zámecká, 284 03 Kutná Hora
2 The Old Town of Kutná Hora
About 80 kilometers east of Prague, the town of Kutná Hora has much to offer visitors, including an old silver mine (once the largest in Europe) and spectacular architecture. A must-see is St. Barbara's Cathedral, a UNESCO World Heritage Site built in Baroque style in 1338 and boasting an extravagantly decorated interior with many unusual frescoes featuring mining and minting, along with a mural of the Vision of St. Ignatius. Also worth seeing is the Italian Court (Vlassky dvur), home to the old mint - once responsible for producing much of Europe's coinage - and the former residence of Bohemian King Vaclav IV. A few minutes' drive outside Kutná Hora is Kacina Chateau, built in 1822 and housing a private theater, pharmacy, library, and picture gallery, as well as a beautiful park laid out in the English style.
Kutna Hora Map - Attractions
Want to use this map on your web site?
Copy and Paste the code below:
3 The Bohemian Paradise
In Eastern Bohemia, the spectacular Bohemian Paradise (Český ráj) is a natural area characterized by numerous unique rock formations, splendid old castles, and countless historical buildings. Declared a UNESCO Geopark in 2005, this area of outstanding natural beauty is famed for its many sandstone hills and natural bridges, as well as its tall basalt columns and outcroppings, all of which draw sightseers from across Europe. A highlight of a visit is exploring the park's 180 square kilometers via its superb network of hiking trails, or if you're more inclined to drive, you can take any one of its pretty scenic driving routes, including those that travel past its superb old fortresses such as Trosky and Kost castles. A good place to begin your exploration of the area is from the historic town of Turnov, notable for its fine old churches and architecture.
Address: Antonína Dvořáka 335, 511 01 Turnov
4 The Příbram Mining Museum
The town of Příbram, about 63 kilometers southwest of Prague, has a long tradition of mining. Historical records indicate that mineral extraction in the region began as far back as the 10th century when it became an important source of silver, iron ore, and more recently, uranium. While the mines are now closed, the town is home to a fascinating tourist attraction, Mining Museum Příbram, one of the country's largest and oldest museums, established in 1886 on the site of a 16th-century mining pit. The museum showcases the mining techniques and history of mining in the region and includes numerous original buildings and machinery, as well as a chance to travel underground to see firsthand the often difficult conditions faced by miners.
Address: Hynka Klicky Place No. 293, PrIbram, Central Bohemia/Stredocesky 261
5 The Catacombs of Klatovy
Dating back to the 13th century, the town of Klatovy - despite being some 130 kilometers southwest of Prague - is well worth a visit. A highlight of this fortified old town is the 81-meter-tall Black Tower (Cerna vez), built in the mid-16th century at the height of the town's influence (it was an important place of trade and commerce) and notable for the astronomical clock added in the 18th century. Also of interest is the Old Town Hall dating from the 16th century; the white towers of the 17th-century Jesuit Church; and the Klatovy Pharmacy, an old apothecary that has remained unchanged, along with its original equipment and furnishings, since the 18th century. Perhaps the most important attraction in Klatovy, however, are the catacombs. Built in the 17th century by Jesuits constructing the Church of Immaculate Conception and St. Ignatius, they were designed to hold the bodies of Jesuit priests and to serve as protection during times of war, only later becoming the final resting place of nobility and other important persons from Klatovy, many of whose remains can still be seen in various states of preservation.
6 Plzeň
Established in the late 13th century, the town of Plzeň, 90 kilometers southwest of Prague, serves as the main administrative center of Western Bohemia. Notable highlights of a visit include the large main square, Square of the Republic (Náměstí Republiky), where you'll find the Cathedral of St. Bartholomew (katedrála sv Bartoloměje), famous for its 100-meter-tall spire, the tallest in the Czech Republic, as well as the Renaissance Old Town Hall. Also of interest is the Great Synagogue, built in the 19th century and the third largest synagogue in the world. Another highlight of a visit to Plzeň is to take a tour of the town's historical network of underground cellars and galleries, many of which date from the 13th to 19th centuries.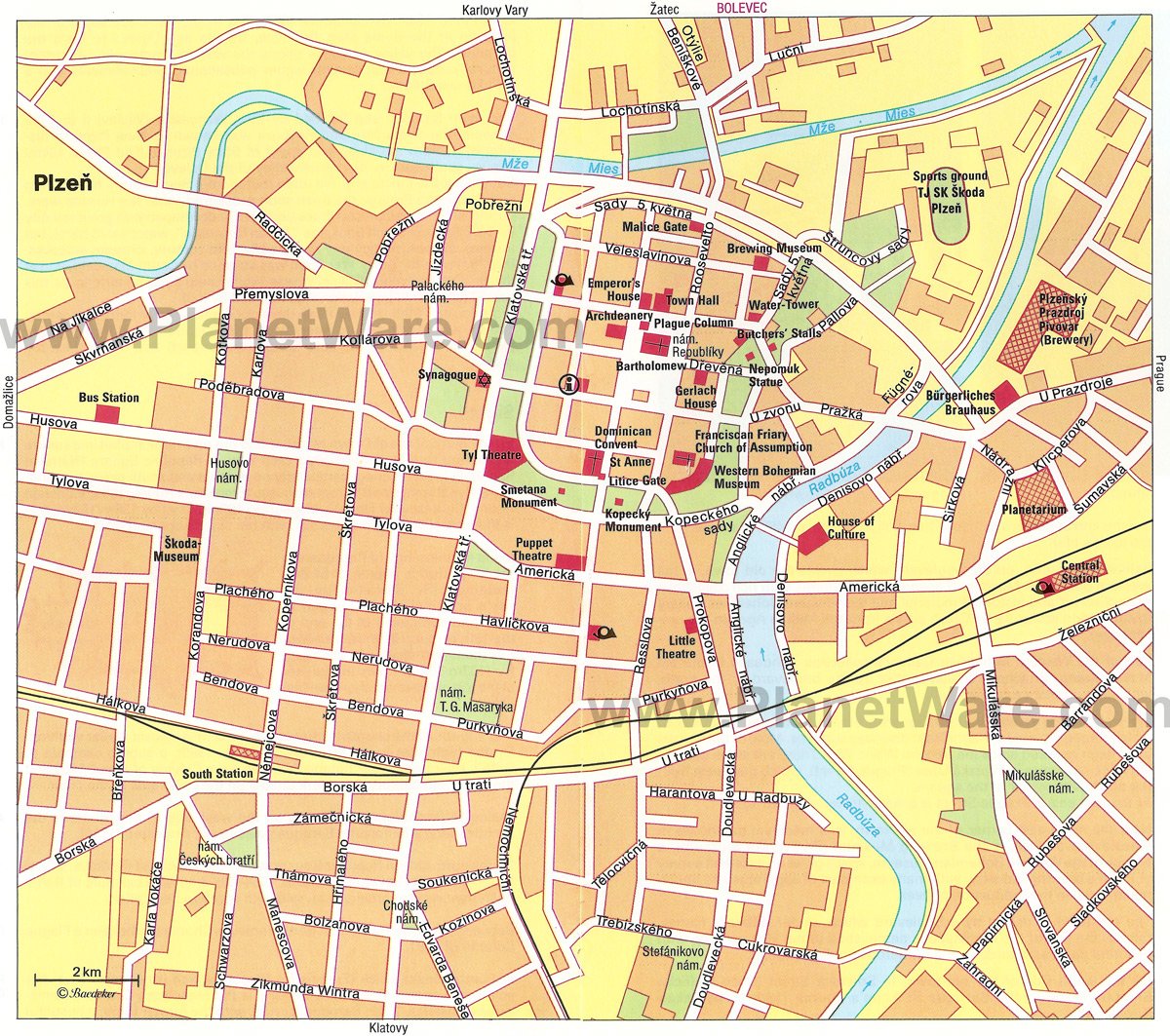 Plzen Map - Attractions
Want to use this map on your web site?
Copy and Paste the code below:
7 Krkonoše National Park
Although it lies a two-hour's drive northeast of Prague on the border with Poland, Krkonoše National Park (Krkonošský národní park) is well worth a visit. Home to the Krkonoše (Giant Mountains), the highest peaks in Bohemia, this national park was established in 1962 to protect the numerous bird species and extensive flora, including many species of rare trees, that inhabit the area. Now listed as a UNESCO Biosphere Reservation, the park's highlights include visiting the quaint spa town of Janské Lázně, while in winter, the ski resorts of Špindlerův Mlýn and Pec pod Sněžkou are busy with winter sports enthusiasts. In addition to skiing, the park is also a popular area for hiking and offers plenty of opportunity for birdwatching. The most popular hike in the mountains is the Harrach Path, which traverses a diverse landscape of rounded mountains, peat bogs, cliffs, and waterfalls.
Address: Dobrovského 3, 543 01 Vrchlabí
8 Kroměříž Palace and the Titan Gallery
Considered the most extravagant palace in the Czech Republic, Kroměříž Palace - a UNESCO World Heritage Site - should be on every visitor's must-see list. Built as a Bishop's palace in 1686, the palace was almost completely rebuilt following damage sustained in the Thirty Years' War. Today's structure is largely of early Baroque style and is notable for its extensive library of more than 50,000 titles, along with a musical archive containing original scores by Mozart and Haydn. Another highlight is the famous Titan Gallery, one of the largest art collections in the country boasting numerous religious paintings including Veronese's Apostles, and Titian's The Flaying of Marsyas by Apollo, along with works by Jacopo Bassano, Jan and Pieter Brueghel, and Anthony van Dyck. Set along the banks of the Morava River, the large palace grounds are also worth exploring. (English language guided tours are available.)
Address: Sněmovní náměstí 1, 767 01 Kroměříž
9 The Škoda Auto Museum
The Škoda Auto Museum in Mladá Boleslav, a 50-kilometer drive from Prague, makes for a fun day trip and celebrates the achievements of one of only four car manufacturers worldwide with an unbroken track record of more than 100 years. This fun museum consists of a number of interesting exhibits, including a look at the decades of vehicle production that has taken place here, along with a gallery showing engine development from the early 20th century to the present day. Other highlights include a chance to see how Skoda's cars are assembled, as well as seeing numerous classic cars on display and a variety of old machinery in action. Also worth visiting while in Mladá Boleslav is the 17th-century Chateau Mnichovo Hradiště, notable for its chapel where Albrecht von Wallenstein (Valdstejn), a famous warrior of the Thirty Years' War, was buried, along with displays of Delft pottery and porcelain miniatures of Japanese and Chinese origin.
Address: třída Václava Klementa 294, 293 60 Mladá Boleslav
10 Křivoklát Castle
A pleasant day trip from Prague that combines nature with a little history is Křivoklát Castle, a 12th-century fortress about an hour's drive east of Prague. Originally designed as a royal hunting lodge (it also spent a spell as a prison), the castle had several owners through the centuries, but it was the Furstenbergs who left the most important mark, spending lavishly on renovations during the Romantic époque of the 19th century in order to bring it back to its original condition. A particular highlight is the beautiful Gothic Chapel, as well as a collection of paintings and sculptures in the Great Royal and Chivalric Halls. For those interested in ancient libraries, the library of Krivoklat Castle contains more than 52,000 volumes and documents. (English language guided tours are available.)
More on Czech Republic