Sanssouci Palace
Potsdam's palace of Sanssouci (1745-47) was built by Knobelsdorff on the basis of sketches by Frederick the Great. It is a single-story Roccoco building with an elliptical dome in the center of the garden front and a circular room at each end. The garden front has rich plastic decoration (by F. C. Glume); on the rear front is the Grand Courtyard, enclosed by colonnades of Corinthian columns.The most notable features of the interior are the oval Marble Hall, with double Corinthian columns; the Little Gallery, with decoration by Hoppenhaupt; the Concert Room, with murals by A. Pesne; the Bedroom and Study (by F. W. von Erdmannsdorff); the Library, with antique busts; and the Voltaire Room.
Important Information:
Opening hours:
Apr 1 to Oct 31:
9am-7pm; Closed: Mon, Tue, Wed
Nov 1 to Mar 31:
9am-4pm
Entrance fee in EUR:
Adult €8.00, Concession or reduced rate €5.00
Useful tips:
No photography allowed in the Palace interior.
Sanssouci Palace Highlights
New Rooms
Southwest of Potsdam's Sanssouci Palace are the Neue Kammern (New Rooms), originally built by Knobelsdorff in 1747 as an orangery and converted by G. C. Unger in 1771-74 into Frederick the Great's "gardener's house." The interior is richly decorated (intarsia cabinets by the Spindler brothers). In front of the building is the "Fountain Roundel" and farther west the "Muses' Roundel" (by Glume, 1752, after a design by Knobelsdorff).
Chinese Tea-House
To the south of the Neue Kammern, in the Rehgarten (Deer Park), can be seen the Chinese Tea-House (Chinesisches Teehaus; by J. G. Büring, 1754-57), with a display of 18th C. Chinese porcelain.
Orangery
The Orangery (now housing archives) in Sanssouci Park was built in the style of an Italian Renaissance palazzo by F. A. Stüler and L. Hesse (two pupils of K. F. Schinkel), to the design of Ludwig Persius between 1851 and 1862. The Raphael Room contains copies of 47 works by Raphael.
Dragon House
To the north of the Maulbeerallee (Mulberry Avenue) are the Drachenhaus (Dragon House; by Gontard, 1770), originally the vintner's house, and the Belvedere (by G. C. Unger, 1770-72).
More Sanssouci Palace Pictures
Map of Potsdam Attractions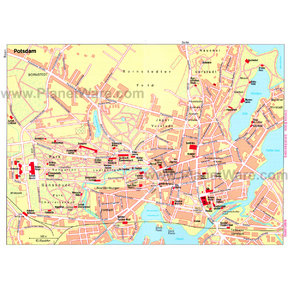 Potsdam Map
More Potsdam, Germany Attractions
Popular Destinations Nearby