Surroundings, Lagos
Related Attractions
Ponta da Piedade
From the Praia de Dona Ana it is possible to drive or to go on foot there is a path which in places leads along the very edge of the cliffs to the Ponta da Piedade 2km/1.25mi to the south. Here are undoubtedly the most beautiful rock formations to be found anywhere along the Algarve coast. They can be seen from the land, but the best view is from the water.Boats sail from Lagos to the Ponta da Piedade; from Lagos, too, there are boat trips to the various caves in the vicinity. The Ponta da Piedade is an imposing foothill which falls away into the sea from the southern end of the Baia de Lagos. At their highest point the rocks are 20m/66ft tall. There are rock overhangs, crags and pillars, natural arches and gateways behind and next to one another, producing a bizarrely beautiful fantasy landscape.A lighthouse marks the entrance and exit to the Bay of Lagos.
Beaches
The beaches of Lagos are scenically extremely attractive but get very crowded in the high season.
Meia Praia
To the northeast of the town the Meia Praia curves gently around the Baia de Lagos for several miles. Here there are all kinds of water sports facilities. The beach can be reached by bus, by small boat from Lagos, or on foot past the Lagos railroad station.
Odiaxere, Portugal
The village of Odiáxere, 6km/3.75mi north of Lagos, has suffered considerably from the busy N 125 road which runs through it. There is a pretty village church in Odiáxere which was rebuilt after the 1755 earthquake; the Manueline doorway of the old church survives.

Barragem da Bravura
In Odiáxere a road branches north off the N 125 to Barragem da Bravura or Barragem de Odiáxere. A 10km/6mi drive through some magnificent countryside ends at the artificial lake (viewing point and small restaurant).
Map of Lagos Attractions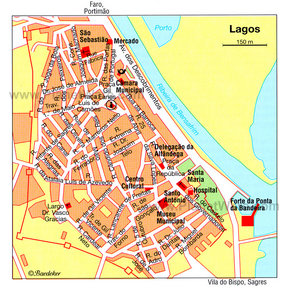 Lagos Map
Popular Destinations Nearby