Bucaco National Park Attractions
Buçaco National Park, which lies 25km/15.5mi northeast of Coimbra on the northern slopes of the Serra do Buçaco, is virtually unrivaled in its scenic beauty and richness of vegetation.
Palace Hotel
In the center of the park, surrounded by flowerbeds ablaze with color, stands the former summer residence and hunting lodge of Carlos I, the palace which he had the Italian architect Luigi Manini build between 1888 and 1907 alongside what had become the dilapidated remains of the convent. This sumptuous palace in Neo-Manueline style, with a great deal of sculpture and azulejo decoration, now has a certain nostalgic charm. Since 1909 it has been the luxurious Palace Hotel do Buçaco.
Convent
All that remains of the old convent is the little church (with sculpture and paintings illustrating the history of the convent), the cloister and a number of cells (small Welington memorial).
High Cross
From the hotel a Way of the Cross (and a road via the Porta da Cruz Alta) leads up the hill to the Cruz Alta (541m/1,775ft), from which there are superb panoramic views extending to the Serra da Estrela and the Atlantic Ocean.
Obelisk and Museum
An obelisk just outside the park walls near the Porta da Rainha and the small military museum both commemorate the battle of Buçaco, when Napoleon's third attempt to take Portugal was thwarted.
Address: Almas do Encarnadouro, Portugal
Surroundings
Luso, Portugal
On the northwestern edge of the Bucaco National Park, in a picturesque setting at the foot of the Cruz Alta, are the attractively located spa hotels of Luso (alt. 380m/1,247ft), where the chalybeate and radioactive mineral springs are used in the treatment of rheumatic and bronchial disorders. Luso's bottled mineral water is Portugal's most popular brand.
Curia
Curia (alt. 40m/130ft), about 10km/6mi northwest of the Buçaco National Park, is a well known spa. Its hot springs containing calcium sulfate are favored for ailments of the joints and metabolism. Curia has modern treatment facilities a variety of sport and recreational amenities and an attractive spa park.
Festa da Senhora da Vitórem
The Festa da Senhora da Vitórem is a Festival commemorating the battle of Buçaco, processions in uniforms of the period, popular festival.This event is held in the Buçaco National Park.
Tapada da Bucaco
Tapada da Bucaco has been in charge of the forestry service since 1850. A sloping parterre is overlooked by a terrace on weeping elm spohora japonica and oak into arbors.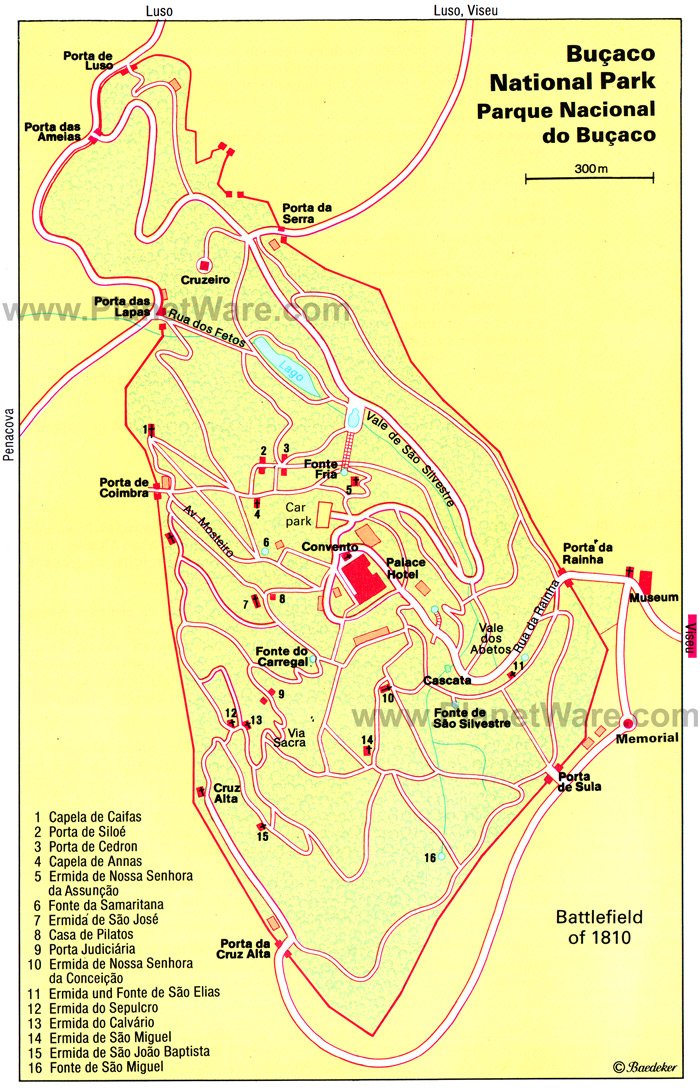 Bucaco National Park Map
Popular Pages