Queen's Park Savannah Area, Port of Spain
About seven blocks north of Woodford Square is a open green space about a kilometer square known as Queen's Park Savannah Area. It is not the open space which is interesting, but the elegant old and modern buildings around the perimeter. In touring these attractions, note that the traffic is one way clockwise with parking on the side of the street opposite the buildings themselves.
Useful tips:
Photography is best in the morning.
Related Attractions
National Museum and Art Gallery
Situated on a southeast panhandle of the Savannah, the National Museum and Art Gallery is located in a building which has a definite Dutch style.The local flavor is conveyed by an extensive display on the evolution of the pans, masks and costumes used during carnival. Pans trace their roots back to the 1850s when bamboo was first used through the use of steel drums during WWII and on to modern styles.Industrial histories include sugar, cocoa and coconut agriculture. A small display features Angostura Bitters which were invented here in the late 19th century. Petroleum use started in 1857 when the first well was drilled and grew after 1908 with the first commercial production.Other collections include Amerindian and early settler artifacts. Small sections explain military and police history. Photos and drawings of early Trinidad are quite interesting.The small natural history department provides a brief introduction to birds, trees and insects.The local modern art collection of vivid paintings and sculptures shows the depth of talent local artists.
Magnificent Seven
From south to north seven structures date from around 1900:Queen's Royal College in an Italianate style with a great tower.Hayes Court, home of the Right Reverend the Lord Bishop of the Anglican Church in Trinidad and Tobago, named after Bishop J. Thomas Hayes, an Englishman who served here in the late 1800s and early 1900s.Millefleurs, once a private mansion, but now owned by the state.Roomor, still a private home once called the Ambard Building.Residence of the Roman Catholic Archbishop of Port-of-Spain.White Hall, the office of the Prime Minister.Stollmeyer's Castle, complete with Scottish style turrets.
Botanical Garden & President's Residence
Emperor Valley Zoo
The Emperor Valley Zoo features local animals plus a few standard exotic species like tigers and lions. This is a small zoo, opened in the 1950s, with small confines.
Map of Port of Spain Attractions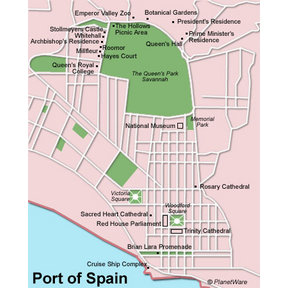 Port of Spain Map