Baptistery, Pisa
Battistero
West of the cathedral in Pisa, on the same axis, stands the baptistery - here, as elsewhere in Italy, separate from the church to which it belongs. Construction began in 1153, almost a hundred years after the cathedral but still in the great days of Pisa.The first architect was one Master Diotisalvi (inscription on pillars flanking the entrance). The likenesses between the baptistery and the cathedral are particularly marked in the earlier phases of the baptistery's construction - the use of the same building material, the patterning with different colors of stone, the articulation of the structure by blind arcading and dwarf galleries.
Important Information:
Opening hours:
Jul 1 to Aug 31:
9am-6pm
Sep 1 to Jun 30:
9am-4:40pm
Entrance fee in EUR:
Adult
€6.20
Since the work of construction continued, with interruptions, for two centuries the architecture of the baptizery shows the transition from Romanesque to Gothic between the lower and the upper levels. In 1260 Nicola Pisano took over responsibility for the project, followed (1285-93) by his son Giovanni. The roof vaulting was completed in 1358, and the 3.30m/11ft high figure of John the Baptist which tops the dome was set up towards the end of the 14th century. Most of the figures on the outside of the building have now been replaced by copies; the originals are in museums.
Baptistery Highlight
Interior
Notable features of the interior, with its conical dome borne on four pillars and eight columns creating an effect of light and solemnity, are the font by Guido da Como (1246), the figures of Saints by pupils of Nicola and Giovanni Pisano, the altar and above all the free-standing marble pulpit (1260), a masterpiece by Nicola Pisano, following Etruscan and Roman models (from the nearby Camposanto). The pulpit, one of the great master works of Romanesque sculpture, is decorated with relief panels depicting with great artistic intensity the Nativity, with the Annunciation to the Shepherds and Adoration by the Shepherds, the Adoration of the Kings, the Presentation in the Temple, the Crucifixion, and the Last Judgment. The baptistery is also notable for its magnificent acoustics, as the guides usually make a point of demonstrating.
Map of Pisa Attractions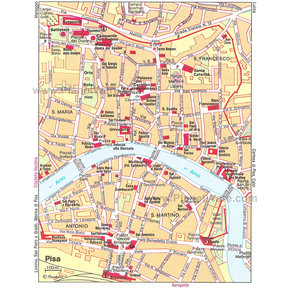 Pisa Map
More Pisa Attractions
Popular Destinations Nearby