Papago Park, Phoenix
In Papago Park are the Phoenix Zoo (455 North Galvin Parkway) and the Desert Botanical Garden (1201 North Galvin Parkway).This 1,200 acre park offers fishing lagoons, cycling paths, nature trails and a golf course. This is a nice place to come for a walk, particularly in the morning before the heat of the day. You can sometimes see wildlife, primarily rabbits but occasionally big horn sheep up on the hill.
Important Information:
Address:
625 North Galvin Parkway, Phoenix, AZ 85086-9295, United States
Opening hours:
5am-11pm
Always closed on:
New Year's Day (Jan 1), Thanksgiving - USA (4th Thursday, Nov), Christmas - Christian (Dec 25)
Guides:
Guided tour included with admission.
Related Attractions
Desert Botanical Garden
Located in Papago Park, the Desert Botanical Garden has examples of vegetation from deserts in different parts of the world and a cactus garden.The garden covers about 145 acres, with 60 acres under cultivation. It is well tended with over 1,000 volunteers and more than 100 people on staff.In the spring the plants come to life as they bloom in an array of colors. There are many trails and visitors should plan on spending a good amount of time walking. This is a great way to see close up the life that exists in the desert.
Phoenix Zoo
Located in Papago Park, the Phoenix Zoo is famed for its Sumatra tigers and orangutans.There are more than 1,300 animals, including 200 endangered species who call this zoo home. The Phoenix Zoo has four different trails that visitor's can follow: the Africa and Tropics Trails, and the Arizona and Children's Trail.This zoo is a particular favorite with children and offers all kinds of children's programs, events, and play areas. Some of the highlights are the petting zoo, camel rides, a carousel, the safari train, and daily animal shows. The "Stingray Bay" allows a chance to interact with these critters.
Arizona Military Museum
The Arizona Military Museum in Phoenix's Papago Park is operated by the Arizona National Guard. The exhibits begin with the Spanish Conquistadors and continue to present day.The collection features uniforms, weapons and armored vehicles as well as books, periodicals, historical records, videos and written memorabilia.The building that houses the museum is an adobe structure which was the result of a public works project during the Great Depression. It served as an arsenal and later as a maintenance shop for a nearby POW camp during WWII.
Phoenix Municipal Stadium
Phoenix Municipal Stadium is a sports facility located in Papago Park that was remodeled in 2005. The stadium is home to the Oakland A's for Spring training.
Map of Phoenix Attractions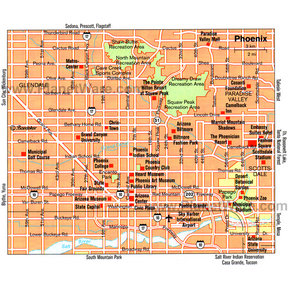 Phoenix Map
More Phoenix Attractions
Popular Destinations Nearby