City Center, Perth
The central area of Perth is fairly compact, and the main sights can easily be seen on foot using high-level walkways and passages through buildings as well as pedestrianized precincts. The best starting point for a tour of the city is St George's Terrace, a wide street some 2km long on which buildings up to 150 years old have survived in the shadow of skyscrapers reflecting the city's recent prosperity.
Related Attractions
St George's Terrace consists of bronze tablets inlaid in the pavement, commemorating prominent contributors to Western Australian history.
Victoria Square
From the east end of St George's Terrace, Victoria Avenue runs north to Victoria Square which features a number of attractions.
St Mary's Cathedral
St Mary's Cathedral is an imposing neo-Gothic church consecrated in 1865. The site for the cathedral was included in the first plan of Perth in 1838.
Royal Perth Hospital
The Royal Perth Hospital is somewhat overshadowed by the tower block added to it after the Second World War. Within the hospital complex, on Wellington Street, is the original small Colonial Hospital of 1853, with roofed terraces.
Post and Telecom Museum
The Post and Telecom Museum is housed in the former Government Printing Office (c 1870).
Perth Mint
Perth Mint, where coins are struck and gold bars cast, is open to visitors.Visit the Melting House where you can watch 200 ounces of pure gold being poured to form a solid gold bar. The original vault from 1899 houses the world's largest collection of gold bars and natural nuggets.
Perth Cultural Centre
Beyond the railroad line in the Northbridge district, linked by a system of pedestrian bridges with the Forrest Place Complex, is Perth Cultural Centre, with the Art Gallery of Western Australia, the Alexander Library (State Library) and the Western Australian Museum.
Art Gallery of Western Australia
The Art Gallery of Western Australia has a collection of older and modern art, with a special section devoted to Australian art (particularly Hans Heysen and Frederick McCubbin and Aboriginal art) and periodic special exhibitions of international art.
Western Australian Museum
Among exhibits of particular interest in the Western Australian Museum is a meteorite weighing 11 metric tons from Mundabilla, the skeleton of a blue whale, vintage cars, Aboriginal works of art and material illustrating their way of life and religion. Within the museum complex is the old jail, built by convict labor in 1853, which continued in use as a prison and place of execution until 1888; it is now a museum of Australian culture and history.
General Post Office
In Forrest Place (named after the first prime minister of Western Australia, Sir John Forrest) is the massive general post office (1923).
Map of Perth Attractions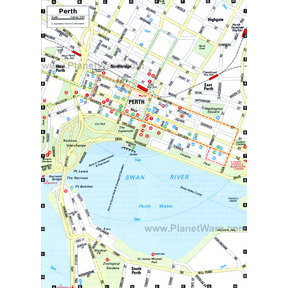 Perth Map
More Perth Attractions
Popular Destinations Nearby