Monastery of St John, Patmos
The most notable of the religious sites on Pátmos is the monastery of St John the Theologian (Aàyios Ioánnis Theológos; St John the Divine), towering over the town with its massive 15th century walls topped by 17th century battlements. The monastery is directly subordinate to the Oecumenical Patriarchate in Istanbul.A ramp leads up through the entrance gateway into a courtyard surrounded by loggias.
Opening hours:
Apr 1 to Oct 31:
8am-1pm, 4pm-6pm; Sun: 10am-1pm, 4pm-6pm
Monastery of St John Highlight
St John the Divine Monastery - Treasury / Library
The Treasury at St John the Divine Monastery on Pátmos contains mitres, vestments, chalices, crosses, etc., as well as a number of valuable icons. There is a rich Library, with 890 manuscript codices and 35 parchment rolls, 2,000 early printed books and the monastic archives, containing over 13,000 documents. Some of the finest items are displayed, including the charter of 1088 (1.42m/5ft long) granting the island of Pátmos to Christodoulos, 33 pages of a sixth century manuscript of St Mark's Gospel, an eighth century manuscript of the Book of Job, with 42miniatures, and a manuscript of 941 containing a book of sermons by St Gregory of Nazianzus. Of the rich collection of ancient literature once possessed by the monastery there remains a manuscript of the "History" of Diodorus Siculus. Together, the Treasury and the Library constitute what is surely the richest collection of its kind outside the monasteries of Athos.
Map - Monastery of St John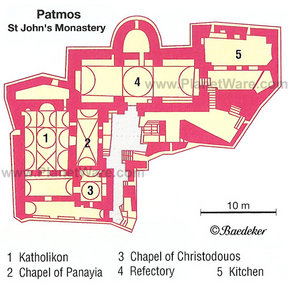 Map - Patmos - St John's Monastery
Popular Destinations Nearby