Triumphal Arch, Paris
Arc de Triomphe
The Arc de Triomphe de l'Etoile is dedicated to the glory of the victorious French armies of the Revolution and the First Empire. Napoleon ordered the building of this mighty structure in 1806 but did not live to see its completion in 1836. It was designed by JF Chalgrin (1739-1811) and completely restored in 1988-89.
Important Information:
Address:
Place Charles-de-Gaulle, F-75008 Paris, France
Opening hours:
Apr 1 to Sep 30:
10am-11pm
Oct 1 to Mar 31:
10am-10:30pm
Always closed on:
New Year's Day (Jan 1), May Day / Labor Day (May 1), Bastille Day - France (Jul 14), Remembrance Day / 1918 Armistice Day (Nov 11), Christmas - Christian (Dec 25)
Entrance fee in EUR:
Adult €8.00, Group of 20 or more €6.20, Youth 25 & under €5.00, Child 17 & under FREE
Useful tips:
This site has both an elevator and 284 steps. There is a ceremony daily at 6:30 pm.
Disability Access:
Full facilities for persons with disabilities.
Guides:
Guided tour included with admission.
Transit:
Metro: Charles de Gaulle-Etoile; RER: Charles de Gaulle-Etoile; Bus: 22, 30, 31, 52, 73, 92
Triumphal Arch Highlights
East and West Front
On the east and west fronts of the arch, which is 50m/164ft high and 45m/148ft wide, are four reliefs with over-lifesize figures depicting the departure, the victories and the glorious return of the French armies. Particularly notable is the relief by François Rude (1784-1855) on the Champs-Elysées front, "Departure of the Volunteers of 1792", also known as "The Marseillaise", which depicts the troops setting out, led by the winged spirit of Liberty. On the inner surface of the arch are the names of over 660 generals and more than a hundred battles.
Viewing Platform
From the viewing platform (reached in a lift by way of an intermediate level) are panoramic views, among the most striking in Paris, along the 12 avenues which radiate from the Place de l'Etoile ( now officially Place Charles-de-Gaulle): the straight line running from the Champs-Elysées to Place de la Concorde and the Louvre; in the opposite direction the Grande Arche in the heart of La Défense; to the northeast Montmartre, with the Sacré-Coeur; and to the south the Eiffel Tower, the Dôme des Invalides and the Tour Montparnasse.A small museum below the platform contains an exhibition illustrating the history of the Arc de Triomphe, mementos of Napoleon and relics of World War II.
Tomb of the Unknown Soldier
At the foot of the Arc de Triomphe is the Tomb of the Unknown Soldier, dedicated in 1921 as a memorial to the dead of World War I. Every evening at 6:30 p.m. a small delegation of old soldiers rekindle the flame at the tomb, and every year on November 11, the anniversary of the Armistice of 1918, there are ceremonies commemorating the dead of both world wars.
More Triumphal Arch Pictures

Map of Paris Attractions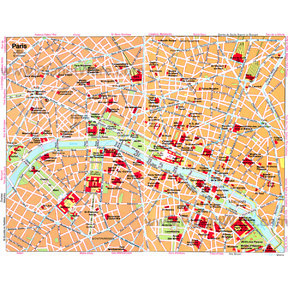 Paris Map