Saint-Eustache, Paris
Saint-Eustache, the parish church of the Halles district, is dedicated to the Early Christian martyr Eustachius or Eustathius (Eustace), patron saint of hunters. Paris's last church in Gothic style, it already shows the influence of the developing Renaissance.The foundation-stone of the church was laid in 1532, during the reign of François I, but it was not completed until 1640.
Important Information:
Address:
Pace du Jour, F-75001 Paris, France
Disability Access:
Full facilities for persons with disabilities.
Transit:
Metro: Les Halles; RER: Chatelet-Les Halles; Bus: 29, 67, 74, 85.
Following the model of Notre-Dame, the cruciform ground- plan, the double aisles flanking the nave, the triforium (the wall-passage under the windows) and the net vaulting are Gothic features. The hybrid character of the church is seen most clearly in the piers supporting the vaulting: although the piers themselves follow Gothic models they are faced with Renaissance columns and pilasters.The church is of impressive dimensions, matching the size and importance of the parish - 88m/289ft long, 44m/144ft wide, 34m/112ft high to the top of the vaulting.The windows in the choir (by Philippe de Champaigne, 1631) depict the Apostles, the Fathers of the Church and St Eustachius. Over the left-hand doorway is a painting of the saint's martyrdom by Simon Vouet (C. 1635).In a recess in the choir, to the left of the apse, is the tomb of Jean-Baptiste Colbert, Louis XIV's minister of finance (by Coysevox, after a design by Le Brun).Saint-Eustache is famed for its large Ducroquet/Gonzalès organ and for its concerts and recitals (on Sundays and public holidays at 11am). The first performances of Berlioz's "Te Deum" (1855) and Liszt's "Gran Mass" (1866) were in Saint-Eustache. An annual event is the performance of "St Hubert's Mass" to mark the opening of the hunting (shooting) season.
Map of Paris Attractions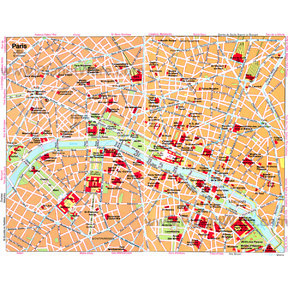 Paris Map