Place Vendôme, Paris
To the north of the Tuileries is the Place Vendôme, a magnificent square built in the late 17th and early 18th C which has preserved its original form.The square, then called Place Louis le Grand, was laid out by Jules Hardouin Mansart, one of the leading architects of the "Grand Siècle" under Louis XIV. The facades of the houses were built between 1686 and 1701, but the houses themselves were not completed until 1720.
Important Information:
Transit:
Metro: Madeleine, Opera, Concorde; Bus: 21, 24, 27, 29, 42, 52, 68, 72, 84, 94, 95.
The original intention was that the royal academies, the Mint, the Royal Library and a hotel for foreign envoys should be installed in the square; but the king's financial difficulties forced him to make over the leases to the city of Paris, which then sold them to nobles and wealthy citizens. The new owners built houses behind the facades with courtyards and gardens in the style of the noble mansions of the day.The charm of the Place Vendôme, one of the finest examples of harmonious urban architecture in Europe, is that it has retained, unspoiled, the consistency of the overall design, successfully combining regal ostentation with civic simplicity. Following careful restoration in the early 90s it has recovered all its old splendor. Here, as in the Rue de la Paix, which runs north from the square to the Opéra, are to be found such famous jewellers as Boucheron, Van Cleef & Arpels and Cartier. Ernest Hemingway, Scott Fitzgerald and Gertrude Stein were habitués of the the Ritz Hotel. In No. 12 the composer Frédéric Chopin died in 1849 at the age of 39.
Related Attractions
Colonne de la Grande Armée
In Paris, the Colonne de la Grande Armée has a spiral bronze relief recalling the glorious deeds of the French army. The column replaces an equestrian statue of Louis XIV which was destroyed in 1792 during the French Revolution. The present monument, 44m/144ft high, was erected by Napoleon in imitation of Trajan's Column in Rome. It is topped by a statue of Napoleon in the garb of a Roman emperor. In 1814 the original statue was melted down and the metal used for the statue of Henri IV on the Pont Neuf, to be replaced by a new one in 1833. In 1871, during the Paris Commune, the column was pulled down but was later re-erected with a copy of the statue of Napoleon.
Map of Paris Attractions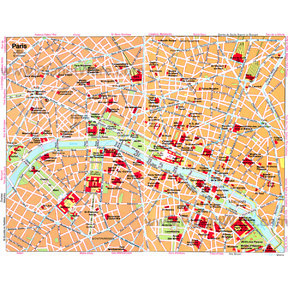 Paris Map