Palais de Tokyo, Paris
The Palais de Tokyo, formerly called the Palais d'Art Moderne, was built for the Paris Exhibition of 1937. It now houses the Musée d'Art Moderne de la Ville de Paris (east wing) and the Centre National de la Photographie (west wing). Designed by Aubert, Dastugne, Dondel and Biard, it is a functional building in the Bauhaus tradition, like the neighboring Palais de Chaillot. Both buildings show classical influences. The allegorical figures in the peristyle ("Strength" and "Victory") and the figure of "France" (1927) by the pool are by Antoine Bourdelle (1861-1929).
Important Information:
Address:
13 avenue Président- Wilson, F-75116 Paris, France
Transit:
Metro: Iena, Alma Marceau; Bus: 32, 63, 82, 92.
Palais de Tokyo Highlights
Musee d'Art Moderne de la Ville de Paris
Paris' Museum of Modern Art has occupied the east wing of the Palais de Tokyo since 1961. It offers a comprehensive survey of modern European art, complemented by interesting special exhibitions of contemporary art.Among major Post-Impressionist works in the collection are pictures by Paul Cézanne, André Dunoyer de Segonzac and Maurice Utrillo, watercolors (1905-07) by Georges Rouault, landscapes by Raoul Dufy and his monumental "Fée Electricité", an allegory of the power of electricity painted for the 1937 Exhibition. Part of the collection, including works by Toulouse- Lautrec and Odilon Redon, was taken over from the Musée d'Orsay in 1986. Other notable items are Picasso's "Evocation" (1901), the first painting of his Blue Period; still lifes by Georges Braque; Fernand Léger's "Les Disques" (1918); Robert Delaunay's large painting, "L'Equipe de Cardiff" (1913; a number of pictures by the Fauves, including Matisse's "Pastorale" (1905) and Derain's "Phare de Collioure" (1905); and works by Albert Marquet, Maurice de Vlaminck, Suzanne Valadon and Amedeo Modigliani. The sculpture on display includes works by Jacques Lipchitz, Chavigné and a wood figure of "Orpheus" by Ossip Zadkine.
Centre National de la Photographie
The Centre National de la Photographie (CNP), with a media library, was installed in the Palais de Tokyo in Paris in 1984. Its founder, Robert Delpire, a high-profile publisher of books on photography, has since organized a series of renowned exhibitions of international photography. The center also publishes well-regarded photographic books, including works on Henri Cartier-Bresson, Robert Doisneau, Lartigue, Newton and Duane Michals.
Map of Paris Attractions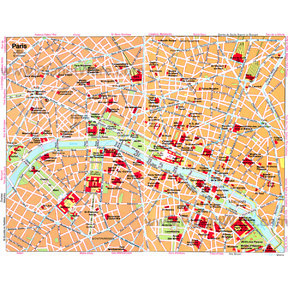 Paris Map