Musée Carnavalet, Paris
Carnavalet is a garbled form of the name of the former owner of the house, the widow of the Sire de Kernevenoy, a Breton. The house was built in the 16th century, probably by Pierre Lescot, the architect responsible for the Renaissance facade of the Louvre. The main doorway, with carvings of lions by Jean Goujon, and the range of buildings facing the entrance date from the 16th century. The other wings round the courtyard, in the center of which is a fine statue of Louis XIV (by Antoine Coysevox, 1698), were remodelled by François Mansart in the 17th century. The Hôtel de Carnavalet was occupied from 1677 to 1696 by Madame de Sévigné, whose letters to her daughter, over 1,500 in number, describing life in Paris and at the court in Versailles are valuable documents on the age of the Sun King.
Important Information:
Address:
23 rue de Sévigné, F-75003 Paris, France
Opening hours:
10am-5:40pm; Closed: Mon
Always closed on:
New Year's Day (Jan 1), 1945 Victory Day (May 8), May Day / Labor Day (May 1), Bastille Day - France (Jul 14), Assumption Day - Christian (Aug 15), All Saints' Day - Christian (Nov 1), Remembrance Day / 1918 Armistice Day (Nov 11), Christmas - Christian (Dec 25), Pentecost Monday (Whit Monday) - Christian, Ascension Thursday - Christian
Useful tips:
Group visit reserve 28 days in advance. Tour guide reserve 28 days in advance. Documentation in foreign languages available.
Disability Access:
Full facilities for persons with disabilities.
Guides:
Guided tour included with admission.
Transit:
Metro line 1 or 8 : St Paul, Chemin Vert; Bus: 29, 69, 76, 96.
Related Attractions
Museum of the History of Paris
The Museum of the History of Paris displays in a series of finely contrived rooms a comprehensive collection of pictures, sculpture, engravings, ceramics, furniture and everyday objects of the most varied kinds which gives a vivid picture of the history of Paris from its Gallo- Roman beginnings to the time of Louis XVI, while the four new rooms in the Hôtel Le Peletier de Saint-Fargeau carry on the story from the French Revolution to the present day. Among the most notable features are the Galerie Sévigné, the Bouvier collection, the workshop of the jeweller Fouquet (by Alfons Mucha, 1900) and the ballroom designed by José Maria Sert for Mme de Wendel (1924).
Map of Paris Attractions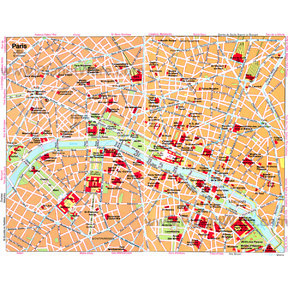 Paris Map