La Villette, Paris
On a 35 hectare/85 acre site in northeastern Paris there has been developed since the mid 80s, under the direction of the architects Bernard Tschumi and Adrian Fainsilber, a new recreation and leisure park- La Villette - with a cultural objective. Two factors influenced the choice of the site: one was that a large abattoir built during the de Gaulle era closed down in 1974; the other was the presence on the site of a 19th century market hall of cast iron construction which it was desired to preserve. After reconstruction work lasting six years the Cité des Sciences et de l'Industrie - 270m/885ft long and 47m/154ft high, with a glass front and four huge blue-painted steel girders supporting the roof - was opened in March 1986.
Important Information:
Address:
Parc de la Villette, 30 avenue Corentin-Cariou, F-75019 Paris, France
Opening hours:
10am-6pm; Closed: Mon
Entrance fee in EUR:
Adult €7.50, Youth 25 & under €5.50, Child 6 & under FREE
Useful tips:
There is a group admission rate. Last admission at 5:30 p.m. Free admission for coaches.
Disability Access:
Full facilities for persons with disabilities.
Transit:
Metro: Porte de Pantin (W), Porte de la Villette (E); Bus: 150, 152, 139, PC.
Related Attractions
Cité des Sciences et de l'Industrie
In the words of its director, Maurice Levy, the Cité des Sciences et de l'Industrie in Paris is a large communications center rather than a museum. The object is to make science and technology accessible to ordinary people and to explain to visitors their development in France, the present state of the art and the prospects for the future. The Cité is also designed as a platform for the exchange of ideas between all French firms working in these fields.Over the central concourse of the museum, where the visit begins, are spherical domes through which sunlight is transmitted into the museum through a system of movable mirrors. The interior is in the form of a full-size replica of an American space station.
Explora
This Paris Explora exhibition, which covers an area of some 30,000sq.m/323,000sq.ft, is in four sections: "Language and Communication" (language, information science, mathematics, sound, light, the brain, art and technology), "From the Earth to the Universe" (astronomy and space travel), "The Adventure of Life" (the biosphere, construction, transport, technology, science, archaeology) and "Matter and the Work of Man" (the earth and its resources, energy, structure of matter, manufacture of basic materials and products). In addition there are 10,000sq.m/108,000sq.ft available for special exhibitions (e.g. on man-made materials, telecommunications, transport technology, fashion, nutrition, the Eureka projects) and conferences. Other facilities are photographic, film, video and sound libraries. Visitors can watch video films, carry out scientific experiments and work interactively with a computer. In all this the aim is to motivate and intensify the learning process by making the first contacts as lively as possible and by involving as many of the five senses as possible. Afterwards visitors can relax over a cup of coffee or something to eat, with a view of the "Ariane" rocket or the demonstrations of soil-free farming and high-tech agriculture.
Aquarium
The Aquarium in the basement of La Villette shows Mediterranean flora and fauna in a reconstruction of the Mediterranean biotop.
Inventorium
The Inventorium at La Villette is designed to interest children in science and technology at an early age. It is in two sections, for three to six year olds and six to 12 year olds. By building a house on a "building site" children learn team work and leadership, while working at a computer terminal gives a training in logical thinking. Finally for the older ones the Minitel offers an introduction into the information age.
Media Library
The Médiathèque (Media Library) in La Villette's basement caters for ordinary people with an interest in science and technology. In addition to over 300,000 volumes, 5,000 journals and 1,000 learning programs in the Paul Painlevé Hall, it has a collection of international documentary films on video cassette.
Cinaxe
Other features in La Villette are the Cinaxe, a movable projection room borne on three pairs of cylinders for speed experiments (entrance from outside); the Louis Lumière Cinema (3D), on level 0; and the Planetarium, near the Explora exhibition.The Planetarium opened in 1986 with a 20 meter dome and a 320 seat theater. It is one of the largest theaters of its kind in Europe.
Argonaute
In front of the south entrance to the Cité is a French submarine built in 1957, the "Argonaute", with a record of 400,000km/250,000mi under water.
La Géode
The south front of the Cité is reflected in the pool which surrounds it and in the Géode, the huge shining sphere opposite it which seems to be floating on the water in another pool. This futuristic structure, 36m/118ft in diameter, has a skin of polished chromium-nickel steel. At night it is illuminated from below, creating its own star-lit firmament. The Géode is actually a cinema. Inside, the audience recline comfortably in bucket seats, surrounded by the hollow sphere of wafer-thin aluminum sheets, now transformed into a screen. On this screen, with a total area of 1,000sq.m/10,750sq.ft, documentary films are projected at an angle of 172, with 12-channel stereo sound and 12,000 watts. The films are shot specially for the Géode, using a camera on the Canadian "Omnimax" system. The giant computer-controlled projector uses a 15 kilowatt lamp (normal projectors usually have only a 1.5 kilowatt lamp), and the 70 mm film produces frames almost 10 times the size of the usual 35 mm format. Since demand for tickets is high, it is advisable to book in advance.The nearly 6,000 tons of material inside the theater is supported by a single pillar and an intricate web structure. The geodesic mesh frame has been assembled with strict attention to precise measurements and is sheathed with 6,433 stainless steel triangles.
Maison de la Villette
The old rotunda at the Porte de la Villette entrance to the famous Paris park, once occupied by veterinary staff, now houses material on local history.
Paris La Villette - Zénith
The Zénith concert hall at La Villette (by Philippe Chaix and Jean-Paul Morel), can seat 6,400, and is used mainly for rock concerts and variety shows. It is named after the red Zénith aircraft which stands nearby.
Grande Halle
La Vallette Grande Halle, formerly a cattle hall (Halle aux Boeufs), is notable for the elegance of its cast-iron architecture (1867). After two years' conservation and alteration work (architects Bernhard Reichen and Philippe Robert) it was officially opened by President Mitterand in 1985. With a total area of 20,000sq.m/215,000sq.ft, it can accommodate exhibitions, concerts, theatrical productions and other events of every kind.
Cité de la Musique
Near the Théâtre Paris-Villette is the Cité de la Musique (by Christian de Portzamparc, 1991). In the western half of the building are the teaching rooms of the new Conservatoire de Musique, while in the eastern half are a concert hall with seating for 1,200 and other rooms for public performances and events.
Musée de la Musique
In the complex are the Musée de la Musique (formerly in Rue de Madrid; over 4,000 musical instruments), a sound studio and the Institut de Pédagogie Musicale.
Théâtre Paris-Villette
At the south end of the La Villette park is the Théâtre Paris-Villette, remodelled as a municipal theater by Bernard Guillaumot, with seating for 300. It puts on mainly plays by contemporary authors.
Musée de l'Eventail
The technical room presents the design of the frame of a fan with the work benches which have been used.
Map - La Villette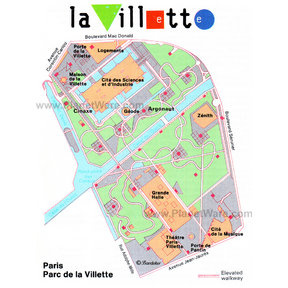 Map - Parc de la Villette
Map of Paris Attractions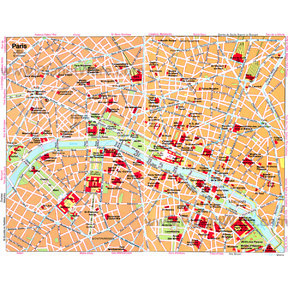 Paris Map