La Défense, Paris
In the west of the city, at the end of Avenue Charles-de-Gaulle, which continues the main east-west axis of Paris (Champs Elysées Arc de Triomphe-Avenue de la Grande-Armée), is La Défense, a complex of highrise blocks developed since the mid 60s. The name La Défense recalls the bitter resistance by French forces in this area during the Franco-Prussian War of 1870-71.
Important Information:
Address:
1 parvis de la Défense, F-92040 Paris, France
Opening hours:
Apr 1 to Sep 30:
10am-8pm
Oct 1 to Mar 31:
10am-7pm
Entrance fee in EUR:
Adult €9.00, Child 17 & under €7.50, Disabled FREE, Child 6 & under FREE
Useful tips:
Last admission one hour before closing.
Transit:
Metro: Esplanade de la Defense; RER: Grande Arche de la Defense
Nowadays it is seen as heralding Paris's entry into the 21st century.The layout of this new business district of futuristic aspect gives effect to the two principles of urban planning, functionality and the separation of vehicular and pedestrian traffic, laid down by Le Corbusier in the 30s. Motor traffic is confined to a ring road round the outside of the district and the Métro and ; RER run underground, there are expanses of open space and gardens between the skyscrapers, and the area round the Esplanade de la Défense is diversified by the multiple jets of the Agam Fountain and works of sculpture such as the "Grand Toscano" (by Igor Mitoraj, 1983) on the Plan de la Coupole. The high-rise office blocks are occupied mainly by large French and international financial, computer and oil companies - EDF, ELF, CGE, Total, Saint-Gobain, IBM, Mobil, Unilever, Hitachi, etc. - employing over 100,000 people. Thus La Défense is mainly a business district, though it also has housing for over 20,000 people, with a large shopping center (4 Temps) and numerous restaurants, cafes, cinemas, sports clubs and other leisure facilities. Cultural needs are catered for by concerts and exhibitions, including an annual Musical Festival and a national jazz competition.In the 30 years since it was established La Défense has become a show-place of contemporary architecture, with the more recent tower blocks showing greater freedom of form than the less imaginative buildings of the 60s. Between the CNIT building of 1958 and the Grande Arche lie three generations of high-rise blocks. The first generation ranged up to a height of 100m/330ft (e.g. Roussel-Hoechst); from 1970 office blocks, on the American model, reached heights of up to 200m/660ft (GAN, Fiat, Assur, Générale, etc.); while in the 80s the emphasis was on small offices with ample daylight, energy-saving building methods and new technologies (e.g. Elysée-La Défense, Les Miroirs, ELF, Descartes). Whereas the original development plan provided for some 300,000sq.m/360,000sq.yd of office space, the present figure is already over 2.2million sq.m/2.6million sq.yd; and it is expected that by 2005 this area will have been doubled and that the east-west axis will have been extended by another 3.3km/2mi. In order to strengthen the residential function of the La Défense district, however, the plan for the area to the west of the Grande Arche provides for a maximum of 600,000sq.m/720,000sq.yd of office space but twice that amount of housing accommodation. It is also planned to replace the ESSO building by 190,000sq.m/227,000sq.yd of new office space in separate groups of buildings (architects Viguier and Jodry).
Related Attractions
Grande Arche
The Grande Arche in Paris, a huge rectangular triumphal arch 110m/360ft high faced with white Carrara marble, was inaugurated in 1989 on the bicentenary of the French Revolution: a contemporary "window on the world" and a symbol of fraternity. The architect was a Dane, Johan Otto von Spreckelsen. Among the organizations housed in the Grande Arche are the Ministry of Town Planning and Housing and an international society concerned with human rights.
CNIT
The great glory of the early years of La Défense was the huge CNIT building (Centre National des Industries et Techniques) on the Espace Benjamin-Franklin. This great vaulted structure (area 90,000sq.m/108,000sq.yd) in the form of an upturned shell borne on only three supports houses a large conference and business center, the World Trade Center, a market for information technology (Informait) and a center of business communications (IT-Com), together with shops, restaurants and a hotel.
Tour sans Fin
Beside the CNIT building in Paris another futuristic complex, the Tour sans Fin, is under construction. This 400m/1,300ft high "tower without an end", designed by Jean-Marc Ibos, will provide additional office accommodation for various service industries.The construction of the tower was cancelled due to economical reasons.
Museum of Womankind
This Paris Museum contains collections of old automata that are set in motion at 3 pm, as well as information on Womankind.
La Défense Dôme IMAX, Musée de l'Automobile (closed)
Beside the spherical Dôme IMAX cinema in Paris' La Défense is the Musée de l'Automobile, which illustrates the history of the automobile from its beginnings down to the present. Among the exhibits are a Hippomobile of around 1890, a Ford model T, a Rolls Royce Phantom III dating from the 1930s and a Ferrari Dino 156.Attraction is permanently closed.
More La Defense Pictures

Map - La Defense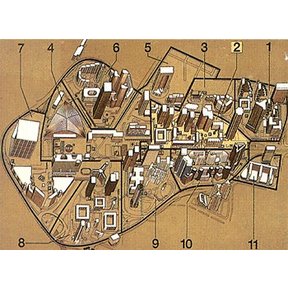 Map - The eleven sectors of La Défense
Map of Paris Attractions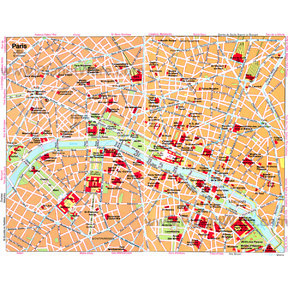 Paris Map