Invalides (Hôtel des Invalides)
The Hôtel des Invalides was founded as a home for disabled soldiers. At one time it had 7,000 places, but there are now only a few pensioners living in what is the finest complex of 17th C buildings in Paris, still completely preserved. Most of the rooms are now occupied by museums and by the military authorities. For those interested in military matters there are two important museums, the Musée de l'Armée and the associated Musée des Plans- Reliefs.
Address:
Esplanade des Invalides, Avenue de Tourville, F-75007 Paris, France
Opening hours:
Apr 1 to Sep 30:
10am-6pm
Oct 1 to Mar 31:
10am-5pm
Always closed on:
New Year's Day (Jan 1), May Day / Labor Day (May 1), All Saints' Day - Christian (Nov 1), Christmas - Christian (Dec 25)
Entrance fee in EUR:
Adult €8.00, Concession or reduced rate €6.00
Useful tips:
Guided tour book one night in advance.
Guides:
Interpretive sessions sometimes available.
Facilities:
Gift shop, Restaurant or food service
Transit:
Metro: Latour Maubourg, St-Francois-Xavier, Invalides; Bus: 28, 49, 63, 69, 82, 83, 92.
Invalides (Hotel des Invalides) Highlights
Dome des Invalides
The Eglise du Dôme des Invalides in Paris, built between 1675 and 1706, contains Napoleon's tomb, installed here in 1840. Designed by the great architect Jules Hardouin-Mansart, it is the outstanding ecclesiastical building of the French classical period, fit counterpart to Hardouin- Mansart's secular master-work, the Palace of Versailles. The mighty dome, over 100m/330ft high, from which the church takes its name harmonizes perfectly with the Doric and Corinthian columns on the facade. In the richly decorated area under the dome, with paintings by Charles de la Fosse, is a circular opening exposing the crypt, which has the same diameter (11m/36ft) as the dome. In the center of the crypt, on a base of green granite, is Napoleon's red porphyry sarcophagus. It is surrounded by 12 figures (by James Pradier) of victory goddesses, symbolizing Napoleon's 12 victorious campaigns between 1797 and 1815.In a small chapel opening off the crypt is the tomb of Napoleon's only legitimate son, who bore the titles of Napoleon II, Roi de Rome and Duc de Reichstadt but died in Vienna in 1832 at the age of 21.In other side chapels are the tombs of famous figures in French history, including Joseph Bonaparte (1768-1844; Napoleon's eldest brother, King of Spain), Jérôme Bonaparte (1784-1860; Napoleon's youngest brother, King of Westphalia), Marshal Turenne (1611-75), General Théophile de la Tour d'Auvergne (1743-1800), Marshal Lyautey (1854-1934), General Bertrand (1773-1844; Napoleon's major-domo on St Helena), General Duroc (1772-1813), Marshal Foch (1851-1929) and Marshal Vauban (1633- 1707), Louis XIV's great military engineer.
Army Museum
The Army Museum, founded in 1794 as the Artillery Museum, occupies the wings round the courtyard of the Invalides. It has a large collection of military equipment and uniforms, weapons, prints and curiosities of many periods and from many countries. There are mementos and relics of Napoleon and well- known generals, and plans of French campaigns. Of particular interest are a number of exhibits dating from the Late Gothic and Renaissance periods.On the ground floor documentary films on the two world wars are shown, starting at 2 pm.
Museum of Relief Plans
In Paris, the Museum of Relief Plans displays relief models of fortified towns, forts and port installation.
Musee Maillol
Musée Maillol displays the work of Maillol. A private collection that belonged to Mrs. Dina Vierny and the foundation also offer temporary exhibitions which provide an overview of contemporary creation by the 20th C artists.
Musee de l'Ordre de la Liberation
Musée de l'Ordre de la Liberation contains three galleries and six rooms display the adventure of Free France, the manuscripts of General de Gaulle and the tragic world of the concentration camps.
Bibliotheque-Musee de la Societe de l'Histoire du Protestantisme Francais
Bibliothèque-Musée de la Société de l'Histoire du Protestantisme Francais houses books, manuscripts and engravings about the history of Protestantism.
Musee Valentin Hauy
This museum retraces the history of visually impaired persons access to culture since 1771 to present.
Musee d'Histoire Contemporaine
There are international political, social and cultural collections ranging from 1870 to present day.
Map of Paris Attractions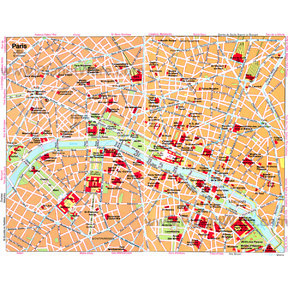 Paris Map