Faubourg St Honoré, Paris
Bounded by Rue Royale, the Boulevards Malesherbes and Haussmann and the Champs-Elysées is the Faubourg Saint-Honoré, the name of both a district and a street, which calls up a variety of images - haute couture, the residence of the President of the Republic, the embassy quarter. The most interesting section of the faubourg extends between Rue La-Boétie and Rue Royale.At Nos. 55-57 is the President's residence, the Palais de l'Elysée; built at the beginning of the 18th century, it belonged at one time to Louis XV's favorite, Madame de Pompadour. Diagonally opposite, on Place Beauvau, is the Ministry of the Interior. At No. 39 is the former Hôtel de Charost (1723), which since 1814 has been the British Embassy.The great attraction of the Faubourg Saint-Honoré, however, lies in its luxurious shops and famous fashion houses. In Rue du Faubourg-Saint-Honoré are the establishments of Hanae Mori (No. 9), Karl Lagerfeld (No. 17), Lanvin (No. 22), Hermès (No. 24), Givenchy (No. 28 r), Jaques Fath (No. 36), Christian Lacroix (No. 73), Fendi (No. 74), Louis Féraud (No. 88), Liliane Romi (No. 90), Zilli and Versace. There are also renowned art galleries, such as those of Hervé Odermatt (No. 85; modern art) and Pacitti (No. 174; 19th and 20th century art), and numerous jewellers.
Opera House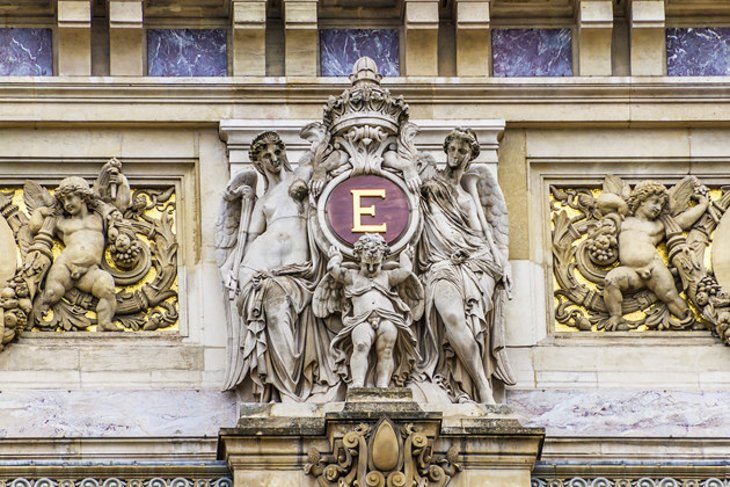 Opera House
The famous Paris Opera House is a grand neo-Baroque building with an incredible, lavishly decorated interior.
Musée Nissim de Camondo
The Paris Musée Nissim de Camondo contains Roccoco furniture and tapestries (second half of 18th century) and exhibitions of costume.The private mansion was commissioned in 1911 to house the collection. It was modeled after the Petit Trianon in Versailles. The home has been preserved in its original state to allow visitors a view of the furniture and art objects as well as providing a glimpse into aristocratic life.
Address: 63 rue de Monceau, F-75008 Paris, France
Musée Jacquemart André
The Musée Jacquemart André in Paris contains 18th C European and Italian Renaissance painting; periodic special exhibitions.Edouard André and his wife Nélie Jacquemart were avid art collectors who built this private mansion near the end of the 19th century. The museum houses a collection of masterpieces including Fragonard, Rembrant, and Botticelli.
Address: 158 boulevard Haussmann, F-75008 Paris, France
Rue Royale
The Rue Royale, between Place de la Concorde and the Madeleine, laid out in the 18th century, is one of the most elegant streets in Paris. Many of the 18th century buildings are now protected as national monuments.Elegance and high prices are traditional characteristics of the luxury shops in Rue Royale. Among them are Villeroy et Boch (porcelain), several renowned jewelers, Christofle (tableware), Fauchon (fine foods) and Verutti (gentlemen's outfitter). At No. 3 is the world- famed Maxim's Restaurant, with its Art Nouveau decor a reminder of Paris's belle époque.
Musée Bouilhet-Christofle
Musée Bouilhet-Christofle has some of the finest silverware, both practical and decorative, produced in France in the past 150 years.
Address: 9 rue Royale, F-75009 Paris, France
Parc Monceau
The aristocrat among Paris's parks is the Parc Monceau, originally an English-style park laid out by a Scottish gardener, Thomas Blaikie, in 1783 but remodelled by Adolphe Alphand in 1862. It was a favorite haunt of Marcel Proust's. With its sculpture and its ruins it still has a romantic air, and many newly married couples come here to have their wedding photographs taken.
Address: Boulevard de Courcelles, F-75017 Paris, France
Chapelle Expiatoire
This is dedicated to the memory of Louis XVI and Marie-Antoinette. The chapel was designed in 1815, at Louis XVIII's request. Chapelle Expiatoire is on the site of the cemetery where Louis XVI and Marie-Antoinette were buried after their execution in 1793.
Address: 29 rue Pasquier, Square Louis XVI, F-75008 Paris, France
Musée de la Parfumerie Fragonard
The Musée de la Parfumerie Fragonard in Paris contains the history of perfume from ancient Egypt to the 20th C (perfume bottles and other utensils).The Scribe museum is housed in a Napoleon III town house built in 1860. The interior is decorated from that period.
Address: 9 rue Scribe, F-75009 Paris, France
Galeries Lafayette
The Galerie Lafayette in Paris, is the site of a number of fashion shows during the year.
Address: 40 boulevard Haussmann, F-75009 Paris, France
La Cour aux Antiquaires
Eighteen small boutiques selling everything from 17th C furniture by way of engravings to Chinese porcelain can be found in Paris' Cour aux Antiquaires.
Musée Cernuschi (Musée d'Art Chinois de la Ville de Paris)
The Musée Cernuschi in Paris is a municipal museum of Chinese art from the 13th C to the present day.
Address: 7 avenue Vélasquez, F-75008 Paris, France
Musée National Jean-Jacques Henner
This Paris museum contains works by the Alsatian painter Jean Jacques Henner (1829-1905).
Address: 43 avenue de Villiers, F-75017 Paris, France
Musée di Mauro
The Musée di Mauro in Paris is a private shoe museum, with exibits from 1925 to the present day.
Printemps Department Store
The Printemps Department Store offers a wide variety of items for the discriminating shopper.
Address: 64 boulevard Haussmann, F-75009 Paris, France
Popular Pages