Euro Disneyland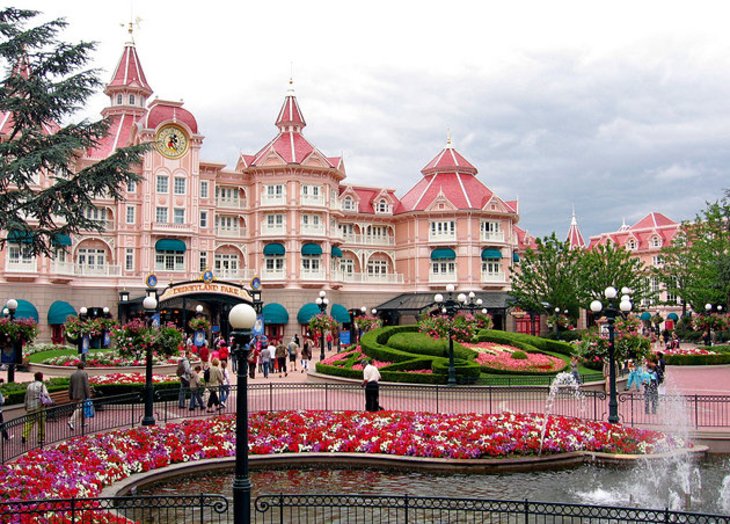 Euro Disneyland Oliver Mallich
Euro Disneyland, a theme park covering an area of almost 2,000 hectares/5,000 acres, a gigantic fairyland of fantasy and adventure with over 50 rides in five magic lands and a variety of shows, parades and other events, was opened in April 1992. Like the whole of the French tourist trade, Euro Disneyland was hit by the economic recession, and the further development that was planned has been postponed. Admission tickets ("passports") for one, two or three days (not necessarily consecutive) and annual season tickets can be bought at the main entrance to the park. Information about conducted visits, particular shows and special events can be obtained from the Guest Relations office in City Hall on Main Street.The six theme hotels are within a few minutes' walk of the park. There is a bus service to the Davy Crockett camping site. Other amenities for visitors are swimming pools, bicycle hire, pony rides, tennis courts and a golf course. Facilities for refreshment range from the exclusive Victorian style Plaza Garden Restaurant by way of a variety of specialist eateries scattered about the park to the snack wagons selling hot popcorn, hot dogs, bagels and other American style delicacies.
Address: Marne-la-Vallée, Box 105, F-77777 Seine-et-Marne, France
Fantasyland
The main attraction in Fantasyland at Euro Disneyland is the Château de la Belle au Bois Dormant (Sleeping Beauty's Castle). On the first floor of the castle the story of the Sleeping Beauty is depicted in stained glass and tapestries, while the vaulted cellars are occupied by a fire-breathing dragon. After this visitors can pay a call on Snow White and the Seven Dwarfs (Blanche-Neige et les Sept Nains), accompany Pinocchio on his daring journey, fly with Peter Pan over night-time London to Never Never Land, wander through Alice's Curious Labyrinth, soar in the air with Dumbo the flying elephant, travel through Fairyland or take a musical cruise through "It's a Small World". For refreshment there are a princely restaurant, British sandwiches or Vienna strudel.
Railroad
The best way of getting a general impression of the wonders of Disneyland is to take a trip on the Euro Disneyland Railroad. The train, drawn by a steam engine, runs by way of the Grand Canyon Diorama to Frontierland and Fantasyland Station before returning via Discoveryland to Main Street.
Frontierland
In eerie Phantom Manor at Euro Disneyland the cadaverous master of the house waits impatiently to show his visitors round. After this you can take a trip on the Rivers of the Far West, either in a sternwheeler which would have been familiar to Mark Twain, an Indian canoe or a shallow keelboat reminiscent of the tales of Davy Crockett. Cottonwood Creek Ranch recalls the days of the Wild West, and the adjoining Bonanza Shop sells jeans, cowboy hats and Indian jewellery and ornaments. Then visitors can have a dizzy-making ride through the narrow gorges of Big Thunder Mountain;; and thereafter hungry gold-diggers can restore their energies with a substantial American meal in the Lucky Nugget Saloon.
Address: Marne-la-Vallée, Box 105, F-77777 Seine-et-Marne, France
Discoveryland
In the futuristic world of Discoveryland at Euro Disneyland the inventions of famous European visionaries such as Leonardo da Vinci, Jules Verne and H. G. Wells are displayed. In the Visionarium visitors can enter various marvelous flying machines or the Time Machine; ln Cinémagique Michael Jackson as Captain EO is involved in a 3-D inter-galactic adventure; Vidéopolis presents the latest video clips; Star Tours offers a breathtaking flight through the fourth dimension; and in Autopia visitors can head for the future in racing cars.
Main Street
In Disneyland's busy Victorian-style Main Street USA visitors can take a ride in a veteran automobile or a horse-tram of turn of the century vintage; in Liberty Court they can be present at the inauguration of the Statue of Liberty in 1886; they can learn about the great inventions of the Industrial Revolution in Discovery Arcade; they can be shaved in the Harmony Barber Shop as in the good old days; and they may be tempted by the nostalgic general stores with their giant lollipops, brightly colored ice cream or other delicacies.
Adventureland
Among the adventures offered in Adventureland at Euro Disneyland are the log cabin of the Swiss Family Robinson, an underground ride through the lair of Caribbean pirates, precarious suspension bridges over tumbling waterfalls, Captain Hook's Pirate Ship and a loop-the-loop through 360 degrees. For those in need of refreshment there is a choice between Oriental markets, African meals and Caribbean seafood, all served in appropriate settings.
Festival Disney
Opposite the Euro Disneyland theme park, by Lake Buena Vista, are the glittering towers of Festival Disney - "America live" for nightbirds, with non-stop action into the early hours. Among the attractions are the Hurricanes discotheque, a children's theater on Peter Pan's island in Never Never Land and roller-skating waitresses, who carry out their duties, as in the 50s, to the accompaniment of Elvis Presley's and Chuck Berry's songs.
Buffalo Bill's Wild West Show
Buffalo Bill's Wild West Show at Euro Disneyland is a colorful spectacle, with intrepid cowboys, sharp-shooting Annie Oakley, the Sioux chief Sitting Bill, buffaloes and wild longhorn steers. It is modeled on the original show with which Buffalo Bill toured Europe and North America at the end of the 19th century.
Address: Marne-la-Vallée, Box 105, F-77777 Seine-et-Marne, France
Popular Pages