Eastern Regions, Paris
The Eastern regions of Paris includes the Belleville, Ménilmontant and Barbès quarters and the famous Cimetière du Père-Lachaise.
Related Attractions
Cimetière du Père-Lachaise
Paris's largest (44 ha/100 ac) and most beautiful cemetery, named after Louis XIV's confessor, Père La Chaise, was laid out in 1804 on land belonging to the Jesuits. It contains the grave of the last Communards, who were shot here against the Mur des Fédérés in 1871, and a memorial to those who died in Nazi concentration camps. Among the many famous people buried here are Molière (Jean-Baptiste Poquelin), Jean de La Fontaine, Honoré Balzac, Marcel Proust, Gérard de Nerval, Eugène Delacroix, Frédéric Chopin, Oscar Wilde, Guillaume Apollinaire, Alfred de Musset, Jean-Louis David, Dr Guillotin (inventor of the guillotine), Edith Piaf, Colette, Gertrude Stein, Max Ernst, Paul Eluard, Modigliani, Maria Callas, Jim Morrison, Serge Gainsbourg, Simone Signoret and Yves Montand. To the east of the Avenue Principale is the old Jewish part of the cemetery, with the graves of Camille Pissaro, Rothschild and Singer. A plan with a list of the graves can be obtained at the entrance.
The Belleville and Ménilmontan quarters are being re-developed with modern architecture mixed in with historic buildings. There are shops, restaurants and art studios found throughout the districts.
Parc des Buttes Chaumont
This park - Parc des Buttes Chaumont - on one of the highest points in Paris, was laid out by Adolphe Alphand for Napoleon III in 1866-67 on what was then a bare (chauve, "bald") hill. It was designed on the English model as a terraced natural park. There is a small lake with an island 50m/165ft high crowned by a temple in the style of the little temple of Tivoli. There is a restaurant on the shores of the lake, on which rowing boats can be hired.
Musée de l'Argenterie
Musée de l'Argenterie contains an original collection of life and refinement. Items on display include tableware, and fashion. Visitors can view a workshop where french plate pieces are made.
Viaduc des Arts
Viaduc des Arts is a place of artistic craftsmanship and contemporary design. Parisians and tourists enjoy the "Promenade plantée", a 1 kilometer green walk as well as 51 craftspeople.
Musée Edith Piaf
This museum in Paris contains photographs, letters and other mementos of Edith Piaf.
Museum on History of Photography
This is a museum of photographic history in Paris.
Map of Paris Attractions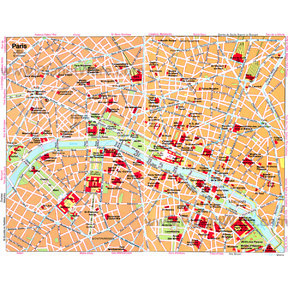 Paris Map