Champs-Elysées
The Avenue des Champs-Elysées, the most famous and most splendid of Paris's broad avenues, just under 2km/1.5mi long, is divided into two parts by the Rond- Point des Champs-Elysées, its largest intersection. The upper part, extending to the Arc de Triomphe, is lined by luxury shops and hotels, innumerable restaurants and pavement cafes, cinemas and theaters, the offices of the big banks and international airlines - and now increasingly by fast food outlets and souvenir stalls.
Important Information:
Transit:
Metro: St Philippe du Roule
This is the meeting place of all the world, in a confusion of many tongues. The lower part of the Champs-Elysées, towards Place de la Concorde, is flanked by gardens in which are museums, theaters and a number of restaurants.Until the end of the 16th century this area consisted of fields and marshland. At the beginning of the 17th century the first road in the area, the Cours de la Reine, was built along the Seine from the Tuileries palace. After the completion of the Tuileries the landscape gardener Le Nôtre laid out a broad, shady avenue running from there up the hill which is now topped by the Arc de Triomphe. In the early 18th century this avenue was named the Champs-Elysées (Elysian Fields), but was not further improved until it became the property of the city on 1828. The Champs-Elysées as a whole now form part of the voie triomphale (triumphal way) which was completed in the reign of Napoleon III, running from the Arc de Triomphe de l'Etoile by way of Place de la Concorde to the Arc de Triomphe du Carrousel. This magnificent main axis of Paris now extends from the Pyramid in the Louvre to the Grande Arche at La Défense.The renovation of the Champs-Elysées which was begun by Jacques Chirac in 1991 and completed in 1995 is designed to restore the avenue's legendary charm by restructuring and redesigning the terraces flanking the street. The parking places have been beautifully repaved and are now reserved for pedestrians, gaps in the lines of plane trees have been filled and sick trees replaced, and historic buildings have been restored in the original style. In addition the George V Metro station has been enlarged and a large underground parking lot with room for 850 cars has been constructed at the corner of Rue de Washington and Rue La Boétie.
Map of Paris Attractions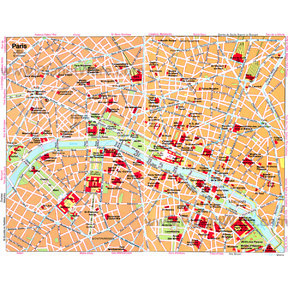 Paris Map