Old Town
Related Attractions
Diputación Foral
The central feature of the town, which is still partly surrounded by its old walls, is the spacious Plaza del Castillo. At the southwest corner of the square stands the Diputación Foral or Palacio de Navarra (built 1847, enlarged 1932), the seat of the provincial assembly. In the magnificent Throne Room is a portrait of Ferdinand VII by Goya.
Archivo General
On the south side of the Diputación Foral is the interesting Archivo General, with a valuable collection of medieval manuscripts.
San Ignacio
Adjoining the Archivo General is the church of San Ignacio (1694), which is said to be built on the spot where Ignacio de Loyola, the future founder of the Jesuits, was wounded while serving as a captain in the Castilian army during a siege of Pamplona by the Navarrese.
Paseo de Sarasate
From the Plaza del Castillo the Paseo de Sarasate, the town's principal promenade, runs southwest. At its near end is the Monumento de los Fueros, an allegorical representation of the rights and privileges (fueros) granted to the town.
Town Hall
Northwest of the Plaza del Castillo in Pamplona, in the little Plaza Consistorial, stands the 17th century Ayuntamiento (Town Hall; restored 1953), with a beautiful Baroque facade in dark-colored stone which is crowned by lions bearing coats of arms and a trumpet-blowing angel. The Town Hall was built at the point where the three separate parts of the town met.
San Saturnino
Just to the west of the Plaza Consistorial is the town's oldest church, San Saturnino (13th-14th C.), with two Romanesque towers. Notable features of the church are the north doorway and a retablo in the baptistery.
Museo de Navarra
Northwest of the Town Hall is the interesting Museo de Navarra, housed in the old pilgrim hospice of Nuestra Señora de la Misericordia, of which the Plateresque facade (1556) survives. The museum's collection, displayed in 34 rooms, includes Roman sculpture and pavement mosaics, Romanesque capitals from the cathedral cloister, Gothic wall paintings, pictures by and Becerra, and Morales.A particular treasure is a Moorish ivory casket from Córdoba (1004-05) found in the monastery of Leyre.
Goya Portrait
Goya's fine portrait of the Marquese de San Adrián.
Map of Pamplona Attractions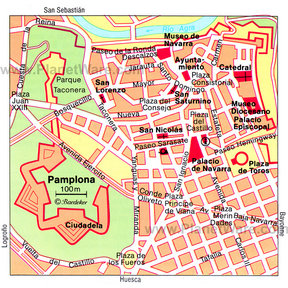 Pamplona Map
More Pamplona Attractions
Popular Destinations Nearby