Old Town, Palma de Mallorca
Between the Plaza Mayor and the cathedral lies the old town of Palma, with its narrow lanes and its picturesque nooks and crannies.
Related Attractions
Town Hall
In Plaza Cort stands the handsome three-story Ayuntamiento.
Case Oleo
In Calle Almudaina, which is spanned by the Moorish Arco de Almudaina, is the Case Oleo, with an interesting art collection.
Casa Oleza
In Calle Morey, near the Casa Oleo, is the Casa Oleza, a Renaissance mansion containing a fine collection of tapestries.
San Francisco
To the east of Santa Eulalia, in Plaza de San Francisco, is the church of San Francisco, built between 1281 and 1317, with a Plateresque/Baroque doorway. The second chapel on the left contains the alabaster tomb of Ramón Llull. The Late Gothic cloister is surrounded by slender columns.
Museo de Mallorca
To the south of the Town Hall, is the Palacio Ayamans, which now houses the Museo de Mallorca, with collections of Moorish, medieval and 18th/19th century art.
Casa Font y Roig
On the east side of the Museo de Mallorca, at Calle Serra 7, is the Casa Font y Roig, in the garden of which are the remains of a 10th century Arab bath house.
Spanish Village
On higher ground to the west of the town center is the Pueblo Español, with reproductions of important and characteristic old buildings from all parts of Spain. Many of them are occupied by craftsmen's workshops.
Castillo de Bellver
Above Palma de Mallorca to the west, at a height of 113m/370ft above sea level, is the Castillo de Bellver, once a royal stronghold (13th century). Its circular plan points to the influence of Eastern models. A bridge leads into the courtyard of the castle, which is surrounded by Romanesque and Gothic arcades. The well in the center of the courtyard draws water from a cistern occupying almost the whole area under the courtyard. On the lower floor of the castle is the Museo Municipal, with prehistoric and archeological material. A number of rooms on the first floor are open to the public.
Fundación Pilar y Joan Miró
The former house of Joan Miró has been recently opened as a museum and gallery with paintings, graphics and sculptures by the Catalan artist.
Santa Eulalia
Northeast of the the Town Hall is the High Gothic church of Santa Eulalia, with a fine but dark interior.
Old Town Pictures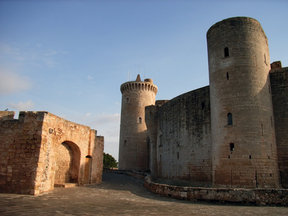 Map of Palma de Mallorca Attractions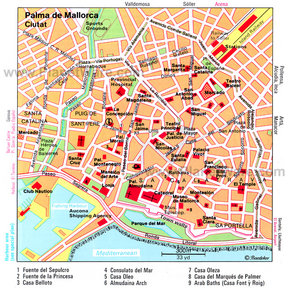 Palma de Mallorca Map
Popular Destinations Nearby