Island of Ustica
CommunicationsCar ferry and hydrofoils to and from Palermo.EventsMural Painting Competition in summer; International Subaqua Sports Show (end of July).Location and importanceUstica, 36 nautical miles from Palermo and 8.6sq.km/3.3sq.mi in area, is a former volcanic island which, geologically-speaking, forms part of the Aeolian Islands. Its appearance is characterized by the black lava stone and green vegetation. Steep rocky coasts and beautiful bays surround the oval-shaped island and its highest point is Monte Guardia dei Turchi (238m/780ft). Although much of Ustica is covered in volcanic detritus vines and fruit are also cultivated. Apart from agriculture the people earn their living from fishing and now tourism.HistoryThe settlement remains at Colombaia date from pre-historic times, while the graves dug out from the volcanic rock at Falconiera on the east coast are from the Phoenician period. However, archeological exploration has really only just begun. For a long time Ustica was a pirates' nest and people stayed well away until immigrants from other Aeolian Islands settled there in the 18th century. Later it served for a number of years as a place of exile.There are many small bays as well as the sandy beach, known as "Il Faraglione", which are excellent for bathing, and the island is ideal for those keen on subaqua sports, water-skiing and sailing.Boat excursions/CavesBoat trips to the "green", "golden" and "blue" caves such as Grotta dell'Ora, Grotta Verde and Grotta Azurra are highly recommended. In Caletta Sidoli, on the west coast, the bay is particularly good for fishing.WalksThere are also some fine walks, such as that to Falconiera Hill with its fine views or to the mountain named Guardia dei Turchi, from which there is a panorama of the whole island and as far as Sicily.
Related Attractions
Ustica, Italy
Most of the island's inhabitants live in the chief village of Ustica, at a height of 54m/177ft near the 157m/515ft high Cape Falconiera, where the old defensive walls can still be seen. The center of life in Ustica is the village square. Many of the houses have been painted with murals by artists such as Guttuso and Omiccioli, and every summer competitions are held to find the best. A further event of note is the International Subaqua Sports Show (Rassegna Internazionale delle Attivitá Subacquee) held at the end of July.
Museum
Archeological underwater finds are exhibited in a small museum. Bartholomew, the patron saint of the island, is remembered every year on 24th August.
Ustica Marine Nature Reserve
Ustica has two landing-stages, Cala Santa Maria and Cala Giaconi. A road 3km/2mi long connects it with the western end of the island near Cape Spalmatore. Here the Marine Nature Reserve has been founded to protect the environment, and fishing, shipping and the collecting of minerals are all prohibited within this region.
Map of Palermo Attractions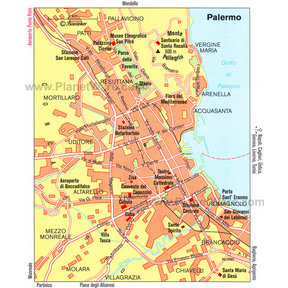 Palermo Map