Himera
LocationThe ancient temple site of Himera lies on the northern coastal road, near the motorway exit of Buonfornello.HistoryIn 649/648 B.C. Himera was founded from Zancle (Messina) as a mixed Dorian-Ionian settlement close to the north coast of Sicily. The settlers believed the pre-Greek name to be Hemera (day), which led them to choose the cock, as harbinger of daybreak, to be the heraldic animal on their coins.
Himera was - along with Selinunte on the south coast - the furthest west into Carthaginian territory that the Greek settlements penetrated. It achieved immense prosperity. Its most important citizen was the choral poet Stesichoros (his occupation of choral leader was also presumably the origin of his name), who treated the contents of the heroic sagas in a ballad-like form (around 600 B.C.).The greatest hour of Himera's history arrived in 480 B.C. Replying to the tyrant Terillos's cry for help against the threat from Theron of Acragas (Agrigento), the Carthaginians landed under the command of Hamilcar, who was almost certainly in league with the Persian king, Xerxes, who attacked Greece at the same time. The Carthaginians were, however, resoundingly defeated by Theron of Acragas and his stepson Gelon of Syracuse. According to Herodotus, this happened on the same day that the Athenians defeated the Persians at the Battle of Salamis. In 409 B.C. the Carthaginians avenged themselves: under the command of Hamilcar's grandson Hannibal, they conquered Himera and inflicted damage on it not dissimilar to that left by an earthquake. The few surviving Greeks escaped into the nearby Thermai, which after that acquired its multiple name of Thermai Himeraiai/Thermae Himerenses/Termini Imerese.
Related Attractions
Excavations
After the complete destruction of Himera in 409 B.C., the only thing to have remained of the once prosperous town, apart from a small number of remains, is the ruin of the temple, which was built after the victory of 480 B.C. and was probably dedicated to Zeus Eleutherios (Zeus of freedom). The building was ordered by Theron of Acragas, whose brother Gelon was erecting the Temple to Athena in Syracuse at the same time - two very similar peripteral temples of 6:14 columns. The Temple of Himera is composed of limestone and a four-stepped stylobate of 22.5x56m (74x184ft).The remains of the temple comprise the foundations and the lower parts of the columns and the cella walls. It is also possible to recognize the beginning of a flight of steps which led off behind the cella entrance up to the roof. The intercolumns were - rather like the Temple F in Selinunte - sealed off with barrier panels. The characteristic water fountains, with their sculptures of a lion's head, are in the Archeological Museum in Palermo, while a few are displayed in the Museo Civico in Termini Imerese.
Map of Palermo Attractions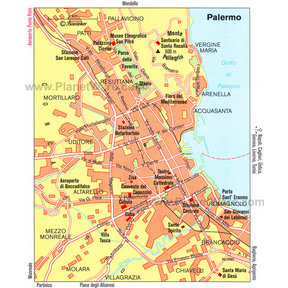 Palermo Map