Christ Church, Oxford
Christ Church dispenses with the nomenclature of "college" and is known as "the House". It is one of the largest colleges and was founded in 1525 by Cardinal Wolsey and re-founded after Wolsey's fall by Henry VIII. Tom Tower, which was added by Wren in 1681-82, contains the huge bell weighing over 7 tons known as the Great Tom. Every evening at five minutes past nine it peals 101 times (once for each member of the original college). In earlier times the last peal of the bell was the signal for all college gates to be closed.
Related Attractions
Tom Quad
The main quadrangle of Christ Church, Tom Quad, with its charming fountain is the largest courtyard in Oxford. The lower tower has a very fine staircase of 1630 with fan vaulting. It leads up to the Hall, a spacious and elegant dining-hall with a magnificent wooden ceiling, which was completed in 1529. It contains portraits of Henry VIII and distinguished members of the college, including the philosopher John Locke (1632-1704), who was sent down (expelled) for sedition, and William Penn (1644-1718), founder of Pennsylvania, who was also sent down as a Nonconformist, having defended the persecuted Quakers. There are also portraits of many prime ministers and of Lewis Carroll (1832-98), author of "Alice in Wonderland", who under his real name of Charles Lutwidge Dodgson was professor of mathematics in Oxford.
Reflecting Transitional style architecture, Christ Church Cathedral in Oxford can be traced back to the late 12th century.
Kill-Canon
At the northeast corner of Tom Quad, beyond the Deanery (in which Charles I lived between 1642 and 1646), is a passage known as Kill-Canon, so chilly it was feared that the canons would catch their death of cold. Here stands a statue of Dean Fell (d. 1686), the subject of the famous lines (originally by Tom Brown): "I do not like thee, Doctor Fell, The reason why I cannot tell".
Peckwater Quad
Kill-Canon passage leads into Peckwater Quad, a Palladian structure designed by Dean Aldrich (1705-13), which has subsequently been completely restored. The Library contains a collection of drawings and mementos of Cardinal Wolsey.
Picture Gallery
The new Picture Gallery beyond Peckwater Quad has an outstanding collection of paintings and drawings by old masters, mainly 15th to 17th century and from Italy, Flanders and France.
Canterbury Quad
Canterbury Quad (by James Wyatt, 1773-78) occupies the site of Canterbury Hall, where Sir Thomas More (1478-1535), the statesman and humanist, was a student. From here Canterbury Gate leads out into Merton Street.
Corpus Christi College
On the right-hand side of Merton Street is Corpus Christi College, founded by Richard Foxe, Bishop of Winchester, in 1517. It is notable particularly for its beautiful gardens, and in the inner courtyard a sundial of 1581 with a pelican, the college symbol, and a perpetual calendar.
Oriel College
Opposite Corpus Christi stands Oriel College, founded by Edward II in 1326. It takes its name from a house known as La Oriole which previously stood on the site. The 16th and 17th century buildings are well-proportioned, but a newer block built in 1911, with a statue of Cecil Rhodes, a member of the college, is less attractive.The 19th century Tractarian movement originated in Oriel. It took its name from the "Tracts for the Times" written here by John Henry Newman (1801-90), an Anglican priest who was one of the leaders of the Oxford Movement but became a Catholic in 1845 and was made a cardinal in 1879.
Museum of Modern Art
Near Oriel College, in Pembroke Street, is the Museum of Modern Art, established in 1966. From here Merton Street, one of the oldest and most picturesque streets in the town, leads on to the High Street.The museum will commemorate the centenary of Alfred Hitchcock's birth with an exhibition. From July 11 - October 3 that willfeature photographs, films, video, sound and mixed media.
Map of Oxford Attractions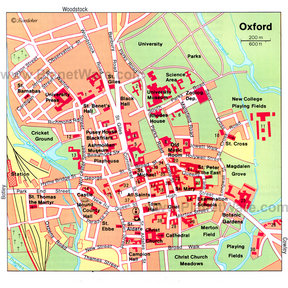 Oxford Map
More Oxford Attractions
Popular Destinations Nearby