National Gallery of Canada, Ottawa
The National Gallery of Canada, designed by Moshe Safdie, is an architectural masterpiece, a highly successful, ultra-modern building that, with its prism-like glass towers, echoes the lines of the nearby Parliament Buildings, and while strongly contrasting with their Neo-Gothicism and the mock medieval Château Laurier nevertheless fits very well into Ottawa's cityscape.
National Gallery of Canada Map
Important Information:
Address:
380 Sussex Drive, Box 427, Station A, Ottawa, ON K1N9N4, Canada
Opening hours:
May 1 to Sep 30:
10am-5pm; Thu: 10am-8pm
Oct 1 to Apr 30:
10am-5pm; Thu: 10am-8pm; Closed: Tue
Always opened on:
Thanksgiving - Canada (2nd Monday, Oct), Easter Monday - Christian
Always closed on:
New Year's Day (Jan 1), Christmas - Christian (Dec 25), Good Friday - Christian
Entrance fee in CAD:
Family $18.00, Adult $9.00, Students $7.00, Senior $7.00, Child 11 & under FREE, Youth 19 & under FREE
Useful tips:
Free admission on Thursdays after 5pm. The Bookstore closes a half hour after the Gallery; exceptionally open Monday before Christmas from 10 am to 5:30 pm. The Cafeteria follows the Gallery hours; kitchen closes at 3 pm. The Cafe l'Entree is open daily from 11:30 am to 4 pm; afternoon tea served from 1:30 pm. Subject to change.
Facilities:
Gift shop, Restaurant or food service
Among the gallery's major works, those by Canadian artists include "Joseph Brant" (1805) by William Berczy, "North Shore, Lake Superior" (1926) by Lawren S. Harris, "Blunden Harbour" (1930) by Emily Carr, "Journey on Foot" (undated) by Pitseolak, and "Reason over Passion" (1968) by Joyce Wieland.From Europe come Hans Memling's "Virgin and Child with St Antony", Lucas Cranach the Elder's "Venus", and El Greco's "St Francis of Assissi", together with "The Mechanic" (1920) by Fernand Léger; also works by Gustav Klimt, Pablo Picasso, Claes Oldenbourg, George Segal and Andy Warhol.The rooms of Inuit art are on the lower level under the glassed in Great Hall.
National Gallery of Canada Highlights
First Floor
The first floor traces the development of Canadian art, including early religious art from Québec and Nova Scotia (much of it 19th C), the reconstructed late 19th C convent chapel, works by Tom Thomson and the Group of Seven, by Paul Kane, Emily Carr and Cornelius Krieghoff, and by Jean-Paul Lemieux, the Canadian Group of Painters, and L.L. Fitzgerald, as well as such contemporary artists as Ian Carr-Harris, Yves Gaucher and Guido Molinari.
Second Floor
The second floor covers a wider spectrum, ranging from European art of the 17th and 18th C, through Impressionism, and up to American art after 1945, in addition to 20th C British artists, international Modernism, and art from Asia and the Far East.Print, graphics and photography are shown in temporary exhibitions.
Map of Ottawa Attractions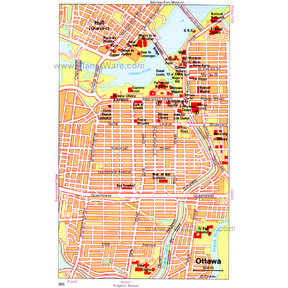 Ottawa Map
More Ottawa Attractions
Popular Destinations Nearby