Lower Town, Ottawa
Ottawa's busy Lower Town, the city's market place, full of food stores and market stalls, lies to the north of the Rideau Canal, with Rideau Street its main thoroughfare.
Related Attractions
The National Gallery of Canada is an outstanding piece of architecture, which contains a fine collection of works by Canadian artists, as well as collections from around the world.
ByWard Market
Byward Market has enjoyed a colorful existence since 1846. In summer the food stores in the main market hall are supplemented by stalls in the streets between the market buildings where fruit, flowers and vegetables are on sale. In fact around the whole market area, lovingly restored a few years ago, with lots of restaurants, smart boutiques, etc., there are delicacies on sale from all over the world, further proof of just how cosmopolitan a city this is.
Basilica of Notre Dame
On Sussex Drive in Ottawa, at St Patrick Street opposite the new national gallery, Notre Dame is the church of the Catholic bishopric. Consecrated in 1846 it contains beautiful mahogany carving by Ph. Parizeau, figures of the four evangelists, prophets and apostles by Louis-Philippe Hébert, and some particularly fine stained glass.
Canadian War Museum
On Sussex Drive in Ottawa, the Canadian War Museum concerns wars fought on Canadian soil and others that Canadian forces took part in, including the fighting between the French and the Iroquois in the 16th c. and the Canadian contribution to the First and Second World Wars (e.g. diorama on the Normandy landings).Special exhibitions are also held at the Canadian War Museum so check to see what is happening during your visit.
Nepean Point
Protruding into the river at the southern end of Alexandra Bridge, Nepean Point has a fine view over the river, and on clear days it is sometimes possible to see as far as the Gatineau hills to the north.On the point stands an idealized version of a statue to Samuel de Champlain, who passed this way in 1613 to 1615.
Tin House Court
Just north-west of the market hall, Tin House Court with a pretty fountain is a delightful little courtyard with some of Ottawa's oldest buildings, including the façade of a house owned by a former tinsmith, and decorated by him with examples of his work.
Map of Ottawa Attractions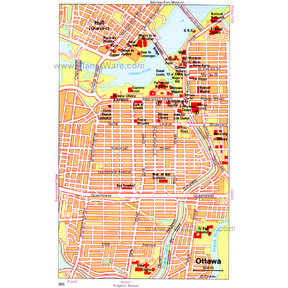 Ottawa Map
More Ottawa Attractions
Popular Destinations Nearby