Harbor, Ostend
Two so-called sea landing stages (Flemish Staketsel) extend out for a long way into the sea to protect the entrance of the harbor. The western breakwater, 625m/684yds long, is popular as a viewpoint.
Related Attractions
Mercator
In the yacht harbor the former training ship of the Belgian maritime marine the "Mercator" lies at anchor. This three-mast schooner is now a museum in which souvenirs of the 41 trips that the ship made are displayed
Jet Foil to Dover
From the ferry terminal, where the first ferry to England left in 1846, jet foils ply to Dover.
Visserskaai
North of the yacht harbor can be found the old fishing harbor and the Visserskaai.
North Sea Aquarium
On the mole the North Sea Aquarium can be visited.
Fish Hall
The new fishing harbor is located on the far side of the harbor basin by the Visserijdok. In the fish hall (vismijn) every weekday except Thursdays the fish auction begins at 7 am. From 9 am prawns and shrimps are auctioned.
New Lighthouse
To the east, on the far side of the harbor entrance and the fishing harbor, rises the 56m/184ft-high Nieuwe Vuurtoren (new lighthouse).
West Mole
There are trips round the harbor and to sea on the "Franlis" (west mole) from 10:45 am.
Defense Works
Further on past the lighthouse stretch dunes with remains of defense works of both world wars and the Fort Napoléon which dates from napoleonic times.
Harbor Pictures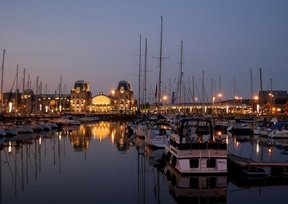 Map of Ostende Attractions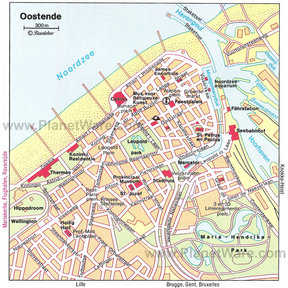 Ostende Map
Popular Destinations Nearby