Frognerpark (Vigelandpark), Oslo
To the northwest of the city of Oslo, reached by way of Drammensveien and Frognerveien, lies the beautiful Frognerpark, also known as the Vigelandpark. The main entrance, with a wrought-iron gate, is in Kirkeveien. Within the park are several restaurants and a very popular open-air swimming pool.
Facilities:
Restaurant or food service
Related Attractions
Vigeland Sculpture Park
The principal attraction in Oslo's Frognerpark is the Vigeland Sculpture Park, an extraordinary assemblage of sculpture by Gustav Vigeland. Extending for some 600m/660yd are a total of no fewer than 650 individual sculptures, on which Vigeland worked for 40 years. The Vigeland Bridge alone is flanked by 58 bronze groups, and under the bridge are sculptures of children. The oldest item is the fountain group, depicting the cycle of human life. Beyond this can be seen the 17m/55ft high Monolith, with 121 intertwined human bodies. At the far end is the Wheel of Life (1933-34; erected after Vigeland's death), consisting of seven linked human bodies. To the north stands a monument erected in 1987, Slekten ("The Family").
Municipal Museum
The Municipal Museum (Oslo Bymuseum; open in summer), housed in an old mansion, the Frogner Hovedgård, offers a survey of the history of Oslo from the 13th century to the present day, including transport and housing conditions.
Vigeland Museum
Southwest of Oslo's Municipal Museum, beyond Halvdan Svartesgate, is the studio of the Norwegian sculptor Gustav Vigeland (1869-1943), now a museum. In the tower is an urn containing Vigeland's ashes.
Charlie Chaplin Statue
Near Oslo's Frognerpark, in front of the Coliseum cinema (Fridtjof Nansensveien 6), can be seen a bronze statue of Charlie Chaplin (by Nils Aas, 1976).
Map of Oslo Attractions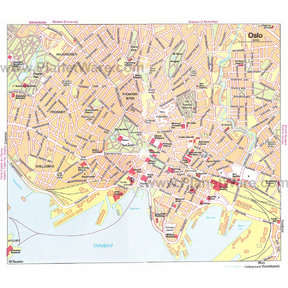 Oslo Map
More Oslo Attractions
Popular Destinations Nearby