Universal Orlando (Universal Studios)
This theme park allows visitors to get up close and person with their favorite movies and TV shows. This is the working film studio portion of Universal Studios, with movie sets, rides, and shows, along with shopping and dining.Among the rides and attractions at the 444-acre site are classics such as the "ET Adventure" and a revamped "The Amazing Adventures of Spider-Man", to some of the latest movies. Some are designed for youngsters and some are intended for all audiences.
Universal Orlando (Universal Studios) Map
Important Information:
Address:
1000 Universal Studios Plaza, Orlando, FL 32819-7610, United States
Related Attractions
Universal Studios
Universal Studios Orlando is a combination theme park and working television and film studio. It was designed in consultation with Steven Spielberg to give visitors an interactive experience with the movies. This attraction is designed to entertain adults and children and attracts a large number of families.There are two different theme parks at Universal: Universal Studios Florida, and Universal's Islands of Adventure. Each of these offers something a little different.
Islands of Adventures
Part of the Universal Studios Park, these five theme islands contain a variety of rides, shows and attractions. They are:"The Lost Continent" with an emphasis on myths and legends."Toon Lagoon" where cartoon characters play the starring roles, home to the "Dudley Dooright" flume ride."Marvel Super Hero Island" with Marvel comic book characters such as Spiderman and The Hulk."Jurassic Park" has dinosaurs and pre-historic life."Seuss Landing" is based on the characters of the popular children's author, Dr. Seuss.
CityWalk
Universal's CityWalk is a 30-acre entertainment complex that features celebrity-themed restaurants, specialty shops, movie theaters, and more. In the evening, many nightclubs and restaurants feature live performances and street performers set up outside. The area attracts locals as well as tourists, and can be particularly busy and lively on weekends.
Universal Orlando (Universal Studios) Pictures
Map of Orlando Attractions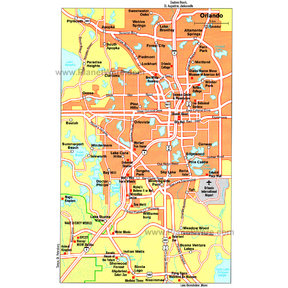 Orlando Map
More Orlando Attractions
Popular Destinations Nearby