Norwich Cathedral
The gleaming white Norwich Cathedral, dedicated to the Holy Trinity, with a striking spire which is a prominent landmark, has preserved its Norman character better than any other church in England. The building of Norwich cathedral was begun in 1096 by Herbert de Losinga (bishop 1091-1119), who transferred the episcopal see of Thetford to Norwich in 1092. The choir and aisles were completed in 1101, and the nave by his successor Eborard or Everard (bishop 1121-46). The spire collapsed in 1362 and was rebuilt in Decorated style. In the 15th century the nave and presbytery were re-roofed and a Perpendicular window was inserted in the west front. The spire (315ft/96m) is the highest in England after Salisbury.
Important Information:
Address:
62 The Close, Norwich NR1 4EH, England
Opening hours:
Jan 1 to May 14:
7:30am-6pm
May 15 to Sep 15:
7:30am-7pm
Sep 16 to Dec 31:
7:30am-6pm
Useful tips:
Donations accepted.
Disability Access:
Partial facilities for persons with disabilities.
Norwich Cathedral Highlights
Cloister
The Monk's Door and the Prior's Door lead through to the two-story cloister, built between 1297 and 1425. Its passageways are full of embellishments in a range of styles from Decorated to Perpendicular and contain more than 400 superb bosses.
Elm Hill
Below Tombland near the River Wensum, the medieval cobbled street known as Elm Hill branches off. This picturesque little thoroughfare is lined with tiny old houses, many of them now attractive shops.
St Andrew's Hall
Near the top end of Elm Hill are St Andrew's and Blackfriars Halls, originally a large Dominican church, now used for exhibitions and musical events.
Interior
The interior of Norwich cathedral has an nave with fourteen bays, mainly in the early Norman style, with low massive columns. The windows are Decorated and Perpendicular; the glass is mainly 19th century. Particularly notable is the fine lierne vaulting, with 326 bosses (out of a total of over 800 in the whole church). The aisles are also Norman. Two bays of the south aisle were converted into chantry chapels by Bishop Nyx or Nykke (bishop 1501-35). The transepts resemble the nave, with beautiful 16th century vaulting. The choir was rebuilt in the Perpendicular style, but the original apse was preserved. The 62 choir-stalls, with splendid canopies and beautifully carved misericords. date from 1420 to 1480. In the aisles there are a number of tombs, including that of Bishop James Goldwell (1472-99). Behind the high altar is the old stone bishop's throne dating from the sixth or eighth century (restored 1959).
Bishop's Palace
Norwich Cathedral's Bishop's Palace, with a doorway dating from about 1430, and St John's Chapel (1322) are now part of Norwich School. Formerly named King Edward VI School, it was founded as a monastery school in 1240 and numbers Lord Nelson and the landscape gardener Humphrey Repton among its past pupils.
Map - Norwich Cathedral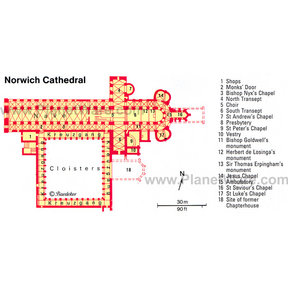 Map - Norwich Cathedral
Map of Norwich Attractions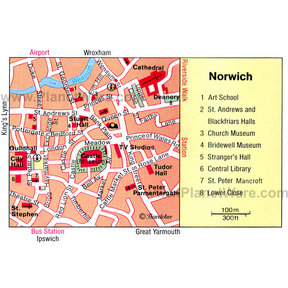 Norwich Map
More Norwich, England Attractions
Popular Destinations Nearby