Norfolk Broads
The Norfolk Broads are a fascinating nature reserve, ideal for sailing and boating holidays, which occupy the triangle formed by Yarmouth, Wroxham and Stalham. In the area traversed by the River Yare and its tributaries the Ant, Thurne, Bure and Waveney there are about 200mi/320km of waterways. In the past there were extensive peat-cuttings here, now occupied by shallow lagoons, mostly overgrown with reeds, which were once used for thatching, filling walls and basket-making.
Windmills, such as the wooden Boardman's Mill at Ludham, the brick-built Thurne Dyke Windpump on the bank of the Thurne or the 82ft/25m high Sutton Mill, were once used for drainage and call to mind similar scenery in Holland. Of the "wherries", flat boats used for shipping coal, wood and provisions, which were once typical of the Broads, only four "model ships" still remain. A very impressive picture of the former day-to-day life of the Broadland farmers and eel-fishers is provided by the Victorian photographic pioneer, P. H. Emerson, in his principal work, "Naturalistic Photography", which appeared in 1889. Nature-lovers will find hosts of waterfowl, butterflies, dragonflies and rare flowers, and anglers will be attracted by the large numbers of fish (bream, rudd, roach, perch, pike).
Related Attractions
Horsey Windpump
The largest of the Norfolk Broads and one of the most beautiful is Hickling Broad, with the nearby old Horsey Windmill (windpump). The best starting-point for an exploration of this area is Potter Heigham, going upstream on the River Thurne to Martham Broad, Horsey Mere and Hickling Broad, while downstream leads to the River Bure. From there it is possible to continue southeast by way of Breydon Water and the River Waveney to Oulton Broad outside Lowestoft, or westwards through a series of broads to Wroxham Broad and the village of Wroxham. Potter Heigham (pop. 690) is usually less crowded than Wroxham. Other good centers from which to explore the Broads are Ranworth and South Walsham, small picturesque villages with interesting churches.
Boat Tours
The beauties of the Broads cannot be properly appreciated by road; they must be explored by boat. Sailing boats and motor cruisers can be rented and there are various excursion launches which operate trips on the Bure, the Yare and on certain broads.
Norfolk and Norwich Festival
Norfolk and Norwich Festival is an annual 10-day event that takes place in October and includes musical, and theatrical performances as well as visual art exhibitions.
More Norfolk Broads Pictures
Map of Norwich Attractions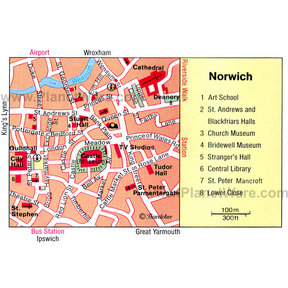 Norwich Map
More Norwich, England Attractions
Popular Destinations Nearby