Surroundings, Bergen
Related Attractions
Fløyfjell
Northeast of Bergen rises the Fløyfjell (319m/1,047ft), from which there are magnificent views of the town and the surrounding area, particularly in the early morning or when the sun is setting. The hill can be climbed either on foot (about 3km/2miles) or by means of the funicular (Fløybanen) from the Vetrlidsalmenning (10 minutes; the line runs up through a 150m/160yd long tunnel and, after the Fjellveien station, another tunnel 75m/80yds long). From the upper station of the funicular, Fløyen (313m/1,027ft), there are superb views of the city and the coastal scenery, extending beyond the islands of Askøy and Sotra to the open sea.
Blåmann
From the Fløyen station a road (30 minutes' walk) runs northeast over the plateau, which becomes steadily barer, to the foot of the Blåmann (551m/1,808ft). There is a footpath to the top of the hill, from which there are fine panoramic views, particularly by evening light. The somewhat higher peak to the rear is not worth the climb. The road continues to the radio station on the Rundemann (556m/1,824ft; 30minutes' climb). From the Fjellvei, which runs round the slopes of the Fløyfjell, there are fine views; at its southeastern end, some 25 minutes' walk from the funicular station, is the Bellevue Restaurant.
Ulriken
Southeast of Bergen is a hill, Ulriken (643m/2,110ft), offering far-ranging views. It is reached by cableway (lower station at Haukeland), or can be climbed in about two hours.
Fantoft Stave Church
Some 6km/4mi from the city center of Bergen is the Fantoft stave church, brought here from its original site at Fortun in 1884. The church was destroyed by fire in 1992 but has been rebuilt in its original form.
Troldhaugen
To the south of Bergen are some of the attractions which have contributed to Bergen's reputation as the cultural capital of Norway. Among them is Troldhaugen, home of Edvard Grieg, which gives some feeling of the life and work of the world-famous Norwegian composer.Troldhaugen was built in 1885 and is now a museum offering concerts during the summer and fall.
Lysøy
On Lisøy, an island in the suburb of Fana, is the villa (built 1872-73) of the famous Norwegian fiddler Ole Bull, a medley of different architectural styles.
Lyse Abbey
Close by the villa of Ole Bull on Lysøy island are the ruins of Lyse Abbey, the first Cistercian house in Norway, founded in 1146 by monks from York. Excavations were carried out here in 1822 and 1838, and the remains give a vivid impression of monastic life in the Middle Ages.
Surroundings Pictures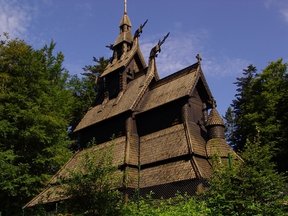 Map of Bergen Attractions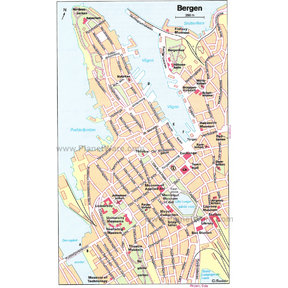 Bergen Map
More Bergen, Norway Attractions
Popular Destinations Nearby