Cyprus Museum, Nicosia
Kypriakó Muséo
Outside the town walls of Nicosia is the very fine Cyprus Museum, with everyday objects and works of art ranging in date from the Neolithic period to Roman times (about 5800 B.C. to A.D.300).The museum has a fascinating collection of Cypriot antiquities and treasures from the Neolithic Age to the Early Byzantine period.The history of the island is chronicled in displays that run in an anti-clockwise direction around the museum.There also are statues in the garden.
Address:
Mouseiou 1, Cyprus
Opening hours:
8am-4pm; Sun: 10am-1pm; Thu: 8am-5pm; Sat: 9am-4pm; Closed: Mon
Always closed on:
New Year's Day (Jan 1), Christmas - Christian (Dec 25), Greek Orthodox Easter
Entrance fee in EUR:
Adult
€3.40
Disability Access:
Partial facilities for persons with disabilities.
Cyprus Museum Highlights
Tombs
Room Nine of the Cyprus Museum in Nicosia is underground and has representations of rock-cut tombs (2500 B.C.-400 B.C.) along with the objects found in them. Room 10 has votive inscriptions and other artifacts from tombs, while Room 13 has marble statues from Salamis. Room 14 contains terra-cotta figurines and leads back to the entrance.
Votive Figures
Room Four of the Cyprus Museum in Nicosia includes the real highlight of the museum: votive figures from 7-6 B.C., found at Ayia Irini, near Morphou. The figurines are displayed as they were found, gathered around a single altar. They include minotaurs, warriors and charioteers of different sizes. Out of 2,000 figurines, only two were female.
Mycenean Artifacts
Room Three of the Cyprus Museum in Nicosia has exhibits of Mycenean artifacts from Kourion including some fine decorated jugs and some pottery from the Hellenistic and Roman periods. The decoration is quite sophisticated and the pottery in the center case is particularly delicate.
Neolithic Artifacts
Room One of the Cyprus Museum in Nicosia contains Neolithic artifacts from around the island. There are a large number of Steatite idols and on the right-hand side as you enter is the wall painting found at Kalavassos. It shows a headless man with his hands up.
Salamis
Room 11 of the Cyprus Museum in Nicosia is up some stairs and contains a mosaic showing a dog and a partridge. There are also some very impressive items from Salamis, including a huge bronze cauldron, an ivory chair, bed and throne. Room 12 has temporary exhibitions.
Bronze Age
Room Two of the Cyprus Museum in Nicosia covers the Bronze Age with many vases and jugs decorated with rather endearing animals. The clay figurines in the center case are interesting in depicting worshippers at an altar.
Egyptian Amulets
Room Eight of the Cyprus Museum in Nicosia has bronze tools and assorted weaponry as well as some statues of gods. The tiny stone seals are very interesting as are the Egyptian amulets and the green-horned god from Engomi.
Sculpture Gallery
Rooms Five and Six of the Cyprus Museum in Nicosia serve as a sculpture gallery with artifacts from a wide range of periods. The bearded man on the left-hand side from Tamassus is particularly impressive.
Statue
Room Seven of the Cyprus Museum in Nicosia contains a limestone female statue from Soli and a huge bronze statue of the Emperor Septimus Severus.
Map of Nicosia Attractions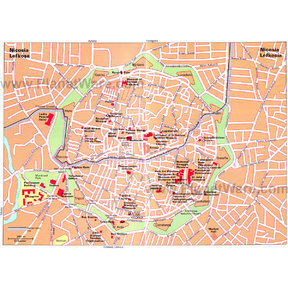 Nicosia Map
More Nicosia, Cyprus Attractions
Popular Destinations Nearby