Festivals, Nice
Nice has an annual May Fair each spring. In June is held the annual Fisherman's Festival and St Peter's Fair. The International Summer Academy is in July and August.
Related Attractions
Nice Carnival
The famous Nice carnival, which has existed in Nice since the 14th C., begins 12 days before Ash Wednesday. During this period various performances and festivities succeed one another on a 2km/1mi stretch of the town. The focus is near the Place Masséna of the Jardin Albert I. Processions of floats, cavalcades, masked balls, floral processions, showers of confetti and dancing in the streets are just a few of the highlights. The main Battle of Flowers is on the day after Ash Wednesday. The conclusion of the carnival is marked by a grand firework display on Shrove Tuesday which lights up the whole of the Baie des Anges. At Micarême (mid-Lent) a second celebration takes place.The carnival is held annually in late February to early March.
Manca Festival
The annual 10-day Manca Festival runs from late March to early April. The name Manca actually stands for "Musiques Actuelles Nice Côte d'Azur." The festival includes a mix of music, ranging from classical to jazz. There are also theatrical and dance performances, film screenings and art exhibitions. A different event is held every night and there are also a few afternoon performances.The venues include the Palais des Arts and the Opera House.
Grand Parade du Jazz
The Nice Jazz Festival is an annual 11-day festival featuring nightly sessions in the ancient Romanesque Cimiez Gardens. Three stages in the gardens allow for simultaneous concerts.This is one of the biggest jazz events in Europe and attracts renowned musicians and groups from around the world. The repertoire ranges from traditional to avant-garde.
Sacred Music Festival
This annual three-week festival takes place in mid-June. There are over a dozen events planned every year, ranging from large-scale symphony performances to smaller choral and chamber concerts and organ recitals. The repertoire focuses on spiritual hymns.Each concert takes place in a different church in Nice.
La Capeline - Festival Mondial de Folklore Junior
This highly-acclaimed folk festival takes place in mid-May and usually lasts for four days.Events include singing, dancing, and traditional musical concerts.
Map of Nice Attractions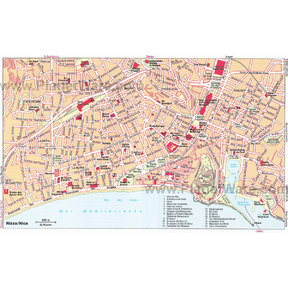 Nice Map
More Nice Attractions
Popular Destinations Nearby