Surroundings, Queenstown
There are many natural attractions and activities in which to participate in the Queenstown surrounding area.
Related Attractions
Lake Wakatipu
This Z-shape lake, hemmed in by high hills, has an area of 293 sq.km. It is some 80km long, barely 5km across at its widest point, and up to 378m deep.According to a Maori legend the lake came into being when a sleeping giant was burned to death. His heart still beats, however, at the bottom of the lake, causing variations in the level of the lake, which can rise or fall by several centimeters within 5 minutes.The first Europeans reached Lake Wakatipu in 1853, and some years later the whole lake was surveyed. The Otago gold rush of the 1860s brought thousands of prospectors into the area. In those days there were 30 or 40 passenger ships, including four steamers, plying on the lake. One old steamer, the Earnshaw (1912), is now one of the lake's tourist attractions.
Skipper's Canyon
A trip through the 20km long Skipper's Canyon in a specially equipped bus is an exciting experience. Drivers who do the trip in a hired car are not covered by insurance.The return trip can be by jet boat for part of the way.Those interested in Bungy jumping can do a 104 m (340 ft) jump from an old gold-mining bridge over Skipper's Canyon.
Bob's Peak
A cableway, the Skyline Gondola, runs up to the summit of Bob's Peak (446 m; 252), from which there is an overwhelming view. Immediately below is Queenstown; beyond this is Lake Wakatipu; and beyond this again, forming a striking backdrop, are the peaks of the Remarkables.
Shotover River
The Shotover River is a challenge to the adventurous visitor, with trips by jet boat in which the steersman has to battle against strong currents, and white-water rafting in kayaks or rubber dinghies. There are organized rafting trips lasting several days, with overnight accommodation in tents.
SS Earnslaw Cruises
Cruises on the SS Earnslaw, which first went into service in 1912, are very popular. Some of the cruises include visits to sheep farms that are accessible only by boat. (The ship is taken out of service in June for its annual overhaul.)
Remarkables
Coronet Peak
Queenstown is the most popular winter-sports center in New Zealand, the season lasting from June to September or October. Coronet Peak (1650m), 15km north of the town, has excellent skiing facilities.
Greenston-Caples Track
This walk, a circuit which takes about four days, runs through the valleys of the Greenstone and Caples Rivers, which both flow into Lake Wakatipu. The best starting-point is Elfin Bay, on the west side of Lake Wakatipu.
Map of Queenstown Attractions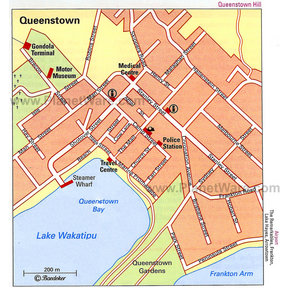 Queenstown Map
Popular Destinations Nearby