Coromandel Peninsula Attractions
The Coromandel Peninsula, a tongue of land marked by volcanic activity, extends northward between the Hauraki Gulf and the Firth of Thames in the west and the Bay of Plenty in the east.
Coromandel, New Zealand
On the northwest coast of the peninsula is the port of Coromandel (pop. 1,500), around which gold was worked in the 1860s. There is an interesting museum in the former School of Mines (open by appointment). Other features are the old Court House (1860) and an old stamper battery for crushing the gold-bearing ore.
Colville
26km north of Coromandel, the little township of Colville, an old loggers' camp, is the last place for taking in supplies for the journey to the northern part of the peninsula (Port Jackson, Port Charles, Kennedy Bay).
Mount Moehau
At the north end of the peninsula is Mount Moehau (892m), regarded by the Maoris as a sacred mountain. The commander of the Arawa tribal canoe is believed to be buried on the summit. It is a steep and difficult ascent - but worthwhile for the view (in fine weather).
Mercury Bay has long been known for fishing, and still draws anglers and divers.
Pauanui (Tairua)
These two prettily situated holiday resorts lie close together on the east coast of the Coromandel Peninsula, between Whitianga and Whangamata, separated only by Tairua Harbour. Their beaches attract large numbers of tourists.
Whangamata, New Zealand
On the southeast coast of the peninsula is the popular holiday resort of Whangamata (pop. 4000), which grew out of an earlier loggers' and gold-miners' settlement. There is a sheltered beach in the bay, and there are other good beaches further north at Onemana and Opoutere and to the south at Whirirtoa.There is good walking in the Taitua State Forest to the north and in the Wentworth and Parakowhai valleys in the interior of the peninsula. Here and there are the remains of gold workings.







Map of Coromandel Peninsula Attractions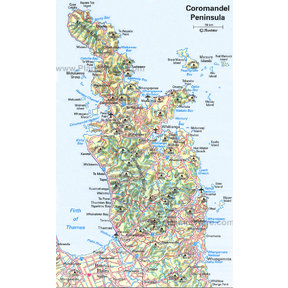 Map - Coromandel Peninsula