Other Sights
Related Attractions
New York City Transit
New York has an extensive subway system that makes getting around cheap and easy. Many people simply take taxis to get around the city but in heavy traffic, which New York is known for, it's sometimes quicker to take the subway.New York's subway is the oldest on the continent. It opened in 1904. Average ridership grew to five million daily passengers by the late 1940s. Public transit ridership declined due to the car and highway boom of the '50s and '60s, and New York City's fiscal crisis in the 70's. However, ridership figures for the subway and bus are rising steadily again. One reason is that the once-filthy subway cars have been cleaned up of graffiti and garbage, and the stations offer more security and police. Getting around New York City is unimaginable without the subway system.Currently the subway system features 25 interconnected lines, 468 stations, and 656 miles of track.City Hall Terminal has been restored by the New York Transit Museum as a gallery.
New York - Governors Island National Monument
A popular way of exploring Governors Island National Monument on a nice day is on a bike, with rentals readily available. Visitors can catch a ferry over and enjoy the views of the Manhattan skyline.The history of Governors Island dates back to 1624. Once owned by New York, the Island was given to the federal government in 1800 to defend the nation. Forts were built which successfully protected New York during the War of 1812. 20ac of the Island, including its two historic forts, were designated a National Monument.
New York - Martin Lawrence Galleries
The Martin Lawrence Galleries were founded in 1975 to provide contemporary paintings, sculpture and limited-edition graphics. Although this is a great place to see fine pieces, it is also a place to purchase such works. The gallery features works by such famous names as Picasso, Chagall, Rembrandt, Warhol, and many more. In addition to this selection are works by emerging artists, a central focus of the gallery.The Martin Lawrence Galleries offer exhibitions and art auctions.
New York - Lennon, Weinberg Gallery
The Lennon, Weinberg Gallery in New York features contemporary works of art that include paintings, drawings, and sculptures. The museum offers a steady stream of changing exhibitions.
New York - Ocean Liner Museum (closed)
ATTRACTION IS CLOSED - Exhibits are currently housed within the South Seaport Museum.The Ocean Liner Museum was founded in 1981 and was the only museum in the world dedicated to the history and preservation of passenger vessels.
New York - Remembering Luboml: Images of a Jewish Community (Closed)
THIS ATTRACTION IS NO LONGER OPERATING.The virtual exhibition features photographs of people and artifacts that recreate life between the wars in the Polish shtetl (market town) of Luboml.
New York - North Star Galleries
North Star Galleries offers maritime art and nautical antiques. Painting, ship models, maritime photographs, and other collectibles are available.
Tarrytown - Lyndhurst
Lyndhurst is a Gothic Revival mansion that was designed in 1838 and offers an escape from the city.
Map of New York City Attractions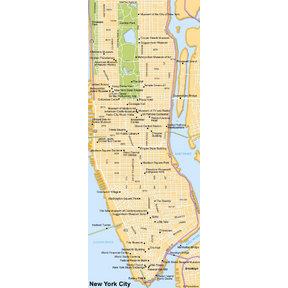 New York City Map
More New York City Attractions